Alex Salmond defends ban on poll tax debt collection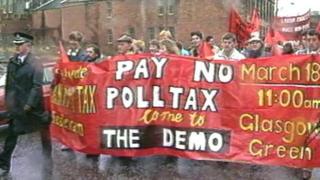 Alex Salmond has defended the Scottish government's decision to stop councils pursuing people for poll tax debts.
The first minister announced plans to block collection of the debts at Holyrood on Thursday.
Critics have dubbed the move a "tax-dodger's charter", with some people who paid the tax asking whether they should now be eligible for a rebate.
But Mr Salmond told BBC Scotland it was wrong to "hound" people for something that happened 25 years ago.
The unpopular poll tax - officially known as the community charge - was introduced by the Conservative government in Scotland in 1989, a year ahead of the rest of the UK, sparking a mass campaign of non-payment. It was replaced by the council tax four years later.
Local authority body Cosla has said that £425m of poll tax debt remains outstanding in Scotland, with some £396,000 having being collected last year.
Some councils - including Aberdeenshire, which covers Mr Salmond's constituency - had said they intended to cross-check the names of people who registered to vote for the first time ahead of the independence referendum to see if they had outstanding tax bills.
Poll tax in Scotland
1989
Introduced in Scotland
1993
Replaced by council tax
£425m Total uncollected poll tax debt

£1.3m Poll tax debt collected in 2009-10

£396,000 Poll tax debt collected in 2013
Mr Salmond phoned in to BBC Radio Scotland's Morning Call programme on Friday morning to say the Scottish government had acted to end that "cynical" attempt to "put the frighteners on people".
He told listeners: "It's impossible, illegal in fact, for a council to start pursuit of poll tax debt. There is a 20-year limit by the law.
"When (Aberdeenshire council leader) Jim Gifford and other politicians around Scotland said they were going to do this they were actually talking through a hole in their hat. They had no ability to do it what so ever.
"What it did do of course, for some people, was make them frightened, it made them afraid, that by the act of coming onto the electoral register that somebody was going to hound them for something that happened 25 years ago."
Mr Salmond described the claims made by some councils about how much poll tax debt remained outstanding as "phantom figures" and "nonsense", given that about a quarter of those who had been eligible to pay the tax in 1989 were now dead.
He also said those who had contributed to the £396,000 of poll tax debt that was collected by councils last year were on long-term payment plans.
Mr Salmond added: "These are people who in all likelihood have paid their poll tax debt many times over and are paying charges and all the rest of it, as many poor people find when they make these long-term plans."
And he dismissed calls for people who paid the poll tax to now receive a rebate.
The first minister said: "As soon as the tax was abandoned I paid it the next day, so I am in exactly the same position. But I don't think that means you should pursue people for a 25-year-old debt that you can't pursue anyway.
"And I don't think you should frighten people who have come onto the electoral roll for the first time in their lives. I think that is entirely wrong."
Mr Salmond said Finance Secretary John Swinney had informed Cosla before Thursday's announcement was made, but said his "prime duty" as first minister was to inform the Scottish Parliament at the "first available opportunity".
But Cosla vice-president Mike Cook said Mr Salmond's announcement at the start of First Minister's Questions appeared to have been made "on the hoof", and said it was "really unhelpful to do things on a half-baked basis".
He told the BBC's Good Morning Scotland programme: "I've been involved over the last few months in regular meetings with the Scottish government about the financial settlement and no-one has breathed a word of this."
Mr Cook added: "It needs to be understood that the Scottish government hasn't got much of a clue about this at the present time.
"Scottish government figures suggest that there is an outstanding debt of about £425m but actually beyond that they don't know how many individuals we are talking about, we don't know whether any of these people can pay the debt and we don't know how much resource will be lost to local government as a result of over-hasty legislation.
"It takes place in a context where, as everyone knows, councils are under huge financial pressure from reduced resources."
It was put to him that councils were not making much effort to collect historic poll tax debts anyway, with Glasgow only collecting £5,000 last year. The total collected across Scotland had fallen from £1.3m in 2010 in £396,000 last year.
Mr Cook responded: "Is £396,000 something that should simply be sniffed at in the context in which councils are operating?
"There is a world of difference between those who can't pay and won't pay. Countless other people listening to this radio programme will pay their taxes - why should they pay and others not if they can?"
The Scottish Conservatives said effectively cancelling poll tax debt raised "many unanswered questions" and claimed many people in Scotland would be "astonished" to have a government "which is basically advocating not paying tax".
Tory MSP Alex Johnstone asked: "Will this stand up to a legal challenge from those who paid their tax in good faith?
"How much will councils be reimbursed and where does this all fit with the 20-year prescription rule on chasing up debt?
"It sets a terrible example on responsibility, and effectively says if you don't want to pay your council tax - or any other levy you think might be unfair - don't bother, we might have a government that writes it off 20 years down the line."