Henry McLeish backs Greens to win devolved powers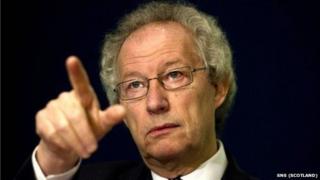 Former Labour First Minister Henry McLeish has said the Scottish Greens can make a strong case to deliver more powers to the Scottish Parliament.
He said the party's case for independence was "clear and determined", saying it should now work to build consensus for more devolution.
Mr McLeish's comments came as it was announced he was speaking at the Scottish Green conference.
The gathering comes after last month's vote against Scottish independence.
Mr McLeish, a supporter of Scotland staying in the Union, said the Greens could play a key role in the Smith Commission, which aims to reach agreement among the Holyrood parties on new powers for the Scottish Parliament.
Referendum legacy
Ahead of his address to the conference in Edinburgh on Saturday, Mr McLeish said: "The Green campaign for independence was clear and determined, and I have confidence that they will now make a strong case for those positions through the Smith Commission process.
"We need to build a consensus on the legacy of the referendum vote and on the way forward."
The Scottish Greens have seen their membership increase from 1,700 to more than 6,000 since the "No" vote in the 18 September independence referendum.
Green MSP Alison Johnstone, said: "Henry McLeish has been one of the most significant voices in the independence debate, and his commitment to radical devolution is second to none."
Mr McLeish, who was Scotland's first minister from 2000-2001, said during the summer that voting "No" to independence had "become difficult".
At the time he said he said he was unsure what Scotland would get after the 2015 UK election.