MSPs pass major civil justice reform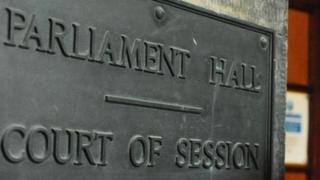 Parliament has unanimously passed major reforms to Scotland's civil justice system, after the service was deemed to be slow, inefficient and expensive.
The government's Courts Reform Bill will see sheriff courts take on many more cases.
That will allow Scotland's top civil court - the Court of Session - to deal with the most serious ones.
But sections of the legal profession said the legislation may make it more difficult for people to bring cases.
And campaigners for people with asbestos-related illnesses also said the reforms could hit those they represent.
However, Scottish Justice Secretary Kenny MacAskill said the bill - passed unanimously by MSPs - was an "important milestone" in court reform, to ensure the system was fit for the 21st century.
"This is a hugely important step forward in making Scotland's civil justice system more accessible, affordable and efficient for those people who need to resolve civil disputes," he said.
The government brought its bill forward in the wake of a review by senior judge Lord Gill, who said the current civil justice system was failing to deliver.
Ministers originally increased the financial threshold for sheriffs hearing cases from £5,000 to £150,000, although the limit was later cut to £100,000, following concerns it had been set too high.
The bill, which will reform a system largely unchanged since Victorian times, also includes measures to:
Create a new court for personal injury claims
Have cases heard by sheriffs with specialist knowledge in certain areas, like family, housing and commercial law
Introduce "summary sheriffs" to deal with less serious cases, as well as a court to hear appeals on the decisions of sheriffs
However, the Faculty of Advocates said the reduction in the sheriff court threshold limit from £150,000 to £100,000 would make little difference.
As a consequence, the faculty said the bill would make it difficult for people bringing personal injury claims to benefit from the representation which advocates currently provided in the Court of Session.
The Law Society of Scotland, which represents lawyers, described the legislation as a "major step forward", but expressed concern over a three-month time limit for bringing judicial review applications.
Time limit
Kim Leslie, convener to the Law Society of Scotland's civil justice committee, said: "We still have serious concerns that a three month time limit to bring a judicial review application is unduly restrictive.
"Together with the requirement for permission to bring an action from the Court of Session, and the need to prove to the court that the application has a real prospect of success, this is in our view too high a test and will seriously reduce access to justice."
Elsewhere, a bid to guarantee all future asbestos-related injury cases were heard by the Court of Session was rejected by MSPs.
The call was made by the Clydeside Action on Asbestos charity, which supports those suffering from conditions like mesothelioma.
The move, put forward in a Labour amendment, was defeated by 81 votes to 31, prompting an angry reaction from asbestos campaigners in the Scottish Parliament's public gallery.
Mr MacAskill cited expert evidence that complex asbestos-related cases would be sent to the Court of Session, while cases being heard in sheriff courts could still be deemed worthy of representation by advocates.