Jim Sillars backs Keith Brown as SNP deputy leader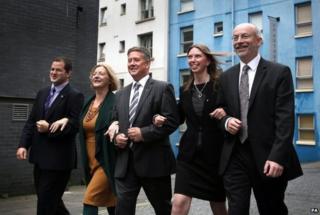 Former SNP deputy leader Jim Sillars has backed Keith Brown to replace Nicola Sturgeon in the role, ahead of November's election.
Mr Sillars was in the job between 1991 and 1992 and said Mr Brown was "clearly the best candidate".
Mr Brown, who is transport minister, is standing against Angela Constance MSP and Stewart Hosie MP for the position.
The winner will be announced at the SNP's annual conference and will be decided in a ballot of party members.
Referring to the 45% of the Scottish electorate who voted "Yes" to independence, Mr Sillars said: "We need the SNP to show leadership, we need to see good government, and we need to see them keep the 45% engaged while making sure that we keep speaking to the 55%.
"If you look around the candidates for deputy leader you can make a case for each of them but at the end of the day you have to come down on Keith Brown's side.
"Keith Brown has made plans for engaging the large new membership of the party and he's the only one talking about speaking to the 55% - the people we have to convince to make independence happen."
Mr Brown welcomed Mr Sillars' approval, and said: "Jim Sillars was a fantastic asset to the Yes campaign in the referendum, just as he's been for the SNP for many years, and his analysis of where we have to go is spot on.
"We can't rerun last month's vote, we have to be looking forward and moving forward and that takes planning, engagement and vision. We've got to aim at 2016."
'Focused on independence'
Scottish Health Secretary Alex Neil and Public Health Minister Michael Matheson have also publicly backed Mr Brown.
Fellow candidate Stewart Hosie, the SNP's Treasury spokesman at Westminster, has said he wanted to keep the "Yes" movement together but also reach out to the 55% of voters who rejected independence.
While Youth Employment Secretary Angela Constance has also argued the party "should remain absolutely focused on independence".
The contest was sparked by First Minister Alex Salmond's decision to stand down as SNP leader, in the wake of the vote against Scottish independence.
Current SNP deputy leader Nicola Sturgeon is the only candidate to replace him as things stand.