MSPs' expenses increase to £12.5m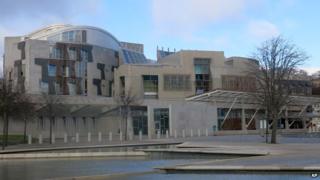 MSPs' expenses rose to more than £12.5m last year, according to new figures from the Scottish Parliament.
The total claimed in 2013-14 was £12,523,959, an increase of £262,140 on the figure for 2012-13.
While staff salary costs rose, party leaders' allowances were down by 31%.
A Scottish Parliament spokeswoman said: "The 2.14% rise in members' expenses last year broadly reflects the effect of inflation on office costs and on staff salaries."
Have a look at what your local MSP claimed, on the parliament's expenses database.
The combined cost of staff salaries, pensions and national insurance contributions in 2013-14 was £9,080,336, up from £8,915,847 in 2012-13.
The figure included winding up costs for members' staff of £200,697 in 2013-14, up from £25,940 in 2012-13.
The deaths of MSPs Brian Adam, Helen Eadie and David McLetchie, and the resignation of Bill Walker following his conviction for domestic abuse, contributed to the rise in winding up costs.
Elsewhere, the parliament said:
Spending on childcare vouchers was £22,439, compared with £24,032 in 2012-13
Total security and disability provision expenditure was £21,703, up from £17,178 in the previous financial year
Stationery and postage costs increased by over 10% over the year, from £486,450 in 2012-13 to £536,101 in 2013-14
And despite the overall increase, party leaders' allowances fell by almost a third, from £26,184 in 2012-13 to £17,957.
Details of total claims for the party leaders showed:
First Minister Alex Salmond claimed £9,691 for expenses including travel, stationery, mobile phone charges and newspapers
Labour leader Johann Lamont spent £19,697 on bills including travel, hotels and office costs
Conservative leader Ruth Davidson claimed £17,184 of travel, office and accommodation costs
Liberal Democrat leader Willie Rennie claimed £16,394, mainly on travel
UK inflation figures for August 2014 showed that the Consumer Price Index (CPI) dropped 0.1 of a percentage point from 1.6% in July.
The rate of Retail Prices Index (RPI) inflation, which is calculated differently and includes housing costs, was down slightly from 2.5% to 2.4%.