Craig Whyte's broke stockbrokers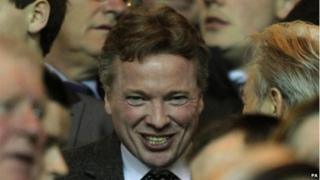 Just when you thought his 15-year ban as a company director had finally driven through a stake through the heart of the Craig Whyte saga... it's back again.
This time, it's the Financial Conduct Authority (FCA) ruling on Pritchard's, the stockbroker in Bournemouth of which he was company secretary.
It would be facing a £4.9m fine, if only it weren't already broke.
The firm's directors would have faced fines of up to £144,000 - if they hadn't presented evidence of "serious financial hardship". So the fines for David Gillespie and David Welsby were less than a tenth of that.
Whyte bailed out of the stockbroker because he said he needed to spend more time on sorting out Rangers Football Club. Indeed, it was around the same time as the 2012 Valentine's Day massacre, in which he plunged the Ibrox club into administration.
By not much coincidence, it was getting very hot also at Pritchard's. The chaotic mismanagement has now been laid bare, and two of his former directors have been strongly censured, fined and banned from financial services.
Mr Whyte only avoided that because the law stipulates that authorised individuals have legal responsibilities for the handling of client funds, and he wasn't one of them.
Had he been one of the authorised individuals, he would have had to disclose his previous, seven-year ban from company directorship - part of his record that he kept from Rangers and the football authorities, and which was revealed by BBC Scotland.
Reckless
So what has the FCA found out about the way Pritchard's was being run while Whyte was company secretary?
Out of £26.5m of client funds, £3m were missing. They had been siphoned off to pay for business expenses, and muddled up with corporate accounts.
There had, said the FCA, been a lack of "integrity, due skill, care and diligence".
The FCA found: "Pritchard recklessly relied upon the existence of an undocumented and opaque offshore facility in attempting to correct a deficit which it had wrongfully brought about in its client money position.
"The offshore facility was wrongfully included as an available client money resource when reconciling the amount of client money that needed to be segregated by Pritchard."
He's not named in the regulator's report and ruling, but that £2m facility appears to have been Craig Whyte's company in the Virgin Islands.
Messrs Gillespie and Welsby never secured any written evidence that money was available.
Nor did they inform the regulator, as they clearly should, that there was a failure to reconcile accounts on a daily basis.
Why should they have to bother? They could trust Craig Whyte's word. Couldn't they?