Brown welcomes Scots-Asian support for SNP deputy bid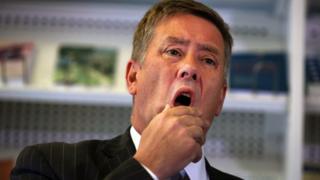 Transport minister Keith Brown has welcomed the support of two high-profile Scots-Asians for his bid to become deputy leader of the SNP.
Abdul Majeed, of Scots Asians for Independence, and Anum Qaiser, former general secretary of Muslim Friends of Labour, both gave their backing.
Mr Brown said: "It's fantastic to have the support of a community which contributes so much to our nation.
"Scotland is on a journey and we'll have to choose the route together."
Abdul Majeed said: "The Scots-Asian community is a vital cog in the Yes machine.
"Keith has given a solid commitment to ensure all diverse communities are not only welcomed wholeheartedly into the SNP but play an active part in the movement towards an independent Scotland."
Anum Qaiser, who recently left Labour to join the SNP, said: " The Scottish National Party are the envy of other political parties across Scotland because of the talent amongst their ranks and Keith is top of that pile."
Stewart Hosie MP and Angela Constance MSP are also bidding to become deputy leader when Nicola Sturgeon makes the expected move up to first minster.