New law to tackle 'revenge porn' in Scotland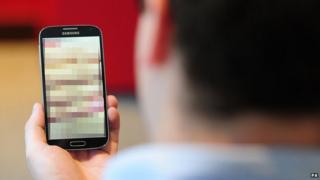 A new law to tackle revenge pornography is to be introduced in Scotland.
The BBC understands the Scottish government intends to make it a specific criminal offence to publish explicit images of someone without their consent.
New legislation has already been drawn up for England and Wales.
The Scottish Liberal Democrats have written to Justice Secretary Kenny MacAskill urging him to follow suit.
Revenge pornography often involves someone posting, or threatening to post, intimate photographs or video of a former partner online without their permission.
---
ANALYSIS
By Glenn Campbell, political correspondent
"It's not clear how many cases of revenge pornography there are in Scotland.
"The Lord Advocate, Frank Mulholland, suspects there is 'significant under-reporting' of what he sees as a 'growing problem'.
"It is already possible to prosecute someone under existing legislation for distributing explicit images of a former partner without their consent.
"Laws against blackmail, breach of the peace, threatening and abusive behaviour, stalking and improper use of a public communications network might all apply.
"But the Scottish government has confirmed that it is 'seriously considering' making revenge pornography a specific criminal offence.
"In England and Wales the ministry of justice has already announced plans to do so with jail terms of up to two years for those found guilty.
"The Scottish government has promised a formal announcement 'very soon'."
---
Scottish Liberal Democrat Justice spokeswoman Alison McInnes said: "It is important that victims don't suffer in silence and know that they have done nothing wrong.
"I believe that introducing specific legislation to tackle these despicable and cowardly acts will give victims confidence that such violations of their privacy are unacceptable and illegal."
Victims have often found it difficult to have pictures removed from the internet. Many sites where the images are hosted are based outside the UK, and requests to remove content are often ignored.
At least five cases have been successfully prosecuted in Scotland under existing law.
But the Lord Advocate, Frank Mulholland, has suggested a specific offence may help deal with what he has described as a "growing problem".
'Humiliate victim'
A Scottish government spokeswoman said: "The Scottish government is already exploring seriously the creation of a specific new offence for posting or distributing revenge pornography.
"This activity is designed to humiliate the victim and there are existing laws that can be used to prosecute offenders.
"We supported the Lord Advocate when he raised this issue earlier this year and highlighted the very damaging effect this type of behaviour can have on victims.
"It is important that people, especially victims, know that the behaviour is unacceptable which is where a new offence could help. We expect to make a formal announcement very soon."
Scottish Women's Aid said it was supportive of the move.
A spokeswoman said: "We have worked closely with our partners to assess the rise of revenge porn, and the tools that are needed to tackle the issue.
"We are launching a survey which will gather women's experiences in order to develop our understanding of the demographics of those affected by revenge porn, who they tell and the service responses they receive.
"However, we also need to challenge the culture that allows this form of abuse to happen, by changing social attitudes towards healthy relationships and mutual respect."
Earlier this week, the House of Lords agreed unanimously to make "revenge porn" a criminal offence in England and Wales.