Decline in oil revenues could lead to £5bn deficit, think tank claims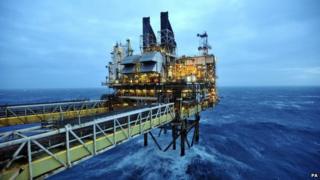 A decline in oil revenues could lead to a £5bn deficit if Scotland gets fiscal autonomy, a think tank has said.
Fiscal Affairs Scotland claimed a move to full responsibility for taxation would mean an increased reliance on oil revenues.
It published figures showing oil revenues in the first half of the financial year were £1bn lower than in the same period last year.
Scottish ministers said tax revenues without oil were on a par with the UK.
Fiscal Affairs Scotland is an economic think tank set up by Jo Armstrong and John McLaren of the University of Glasgow.
Ms Armstrong was a policy adviser to the Scottish executive from 2001-03, while Prof McLaren is a former Labour Party researcher. The think tank says it is "politically unaligned".
Its latest paper was published before the first meeting of the Smith Commission, which was set up to consider more powers for the Scottish Parliament following a "No" vote to independence in September.
Tax devolution
Scotland's five main political parties are represented on the commission and all have proposed devolving more taxation powers to Scotland.
The Scottish government has called for all tax revenues to be retained in Scotland, unless there is a "specific reason" for any to remain reserved to Westminster.
"The first half of the financial year 2014-15 has seen North Sea oil and gas-related tax revenues (NSOR) for the UK amount to £1.1bn," the paper said.
"This is almost £1bn less than was received for the same period in 2013-14, ie, just over half of last year's level."
It added: "If, as part of its deliberations, the Smith Commission were to consider the impact of a move to something approaching full fiscal autonomy, then fluctuations in NSOR will need to be taken into account as they could have a significant impact on Scotland's budget."
Funding shortfall
Fiscal Affairs Scotland claimed that the fluctuations would lead to a £5bn funding shortfall if oil revenues were in line with an estimate by the Office of Budget Responsibility.
If a higher estimate from the Scottish government turned out to be accurate, there would be a £2.6bn deficit, it argued.
Prof McLaren told BBC Radio Scotland's Good Morning Scotland programme: "The OBR, yet again, overestimated oil revenues, or will do for this year.
"So, yes there is a chance of bounce back but the figures that we show include all of the Scottish government's six scenarios, so that goes all the way up to their most optimistic scenario and even at that level there is still a gap."
Labour's deputy finance spokeswoman, Jenny Marra, said: "The SNP's proposals to the Smith Commission would simply expose Scotland's finances to falling oil revenues and unmanageable fiscal shocks exactly as independence would have.
"The people of Scotland will not accept a party walking into the commission arguing for powers for powers' sake, especially when it will result in Scotland being £5bn worse off."
'Maximise benefits'
A Scottish government spokeswoman said: "Scotland has generated more tax per head than the UK as a whole in each of the last 33 years.
"Even when North Sea revenue is excluded, on a per capita basis Scotland's national income and tax revenues are on a par with the UK."
She added: "Responsibility for oil and gas taxation would provide Scotland with the opportunity to exercise responsible stewardship of the North Sea resources and maximise its benefits, in contrast to the short term approach to oil and gas taxation that has been adopted by UK government.
"With greater responsibility the Scottish government would also be able to establish an oil stability and savings fund which could be used to enhance budgetary planning and manage revenues over the long term."