Scottish Labour in 'meltdown' says SNP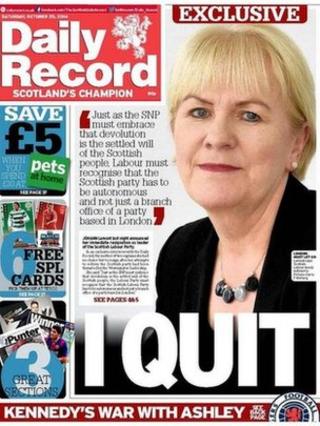 The Labour Party is in "complete meltdown" in Scotland, according to Nicola Sturgeon.
The SNP's leader-in-waiting, who will become Scotland's first minister next month, was speaking after Scottish Labour leader Johann Lamont resigned.
Ms Sturgeon said: "The scale of the infighting between Scottish Labour and Labour at Westminster is exposed for all to see."
Meanwhile Alex Salmond said Labour's problems were "deep-seated".
Mr Salmond, who will stand down as SNP leader and Scotland's first minister in November, said: "The fact that Scottish Labour are now going to have their fifth leader since the SNP took office in 2007 indicates that their problems are not about personalities - they are much more deep-seated than that.
"It was always very clear that Johann Lamont was never able to be meaningfully in charge of Labour in Scotland, and that is laid bare in dramatic fashion in her resignation comments."
Ms Lamont announced her resignation with immediate effect after accusing the UK party of treating Scotland like a "branch office".
In an interview with the Daily Record, she described some Labour MPs as "dinosaurs" who failed to recognise that "Scotland has changed forever" after September's referendum.
Ms Sturgeon said: "The London-based leadership pulling the party's strings in Scotland, and Labour campaigning side-by-side the Tories in the referendum, has proved a deeply corrosive combination which is causing Labour support to plummet in Scotland.
"The latest polling analysis indicates that people in Scotland will not forget Labour's alliance with the Tories.
"Labour are now polling at just 26% for next year's UK general election, while SNP support has surged to 43% - and has been consistently high since the referendum.
"Labour were already a party in crisis, and Johann Lamont's resignation - caused by infighting and deep division - has plunged them to a new low."