Ed Balls denies Labour treats Scotland as a 'branch office'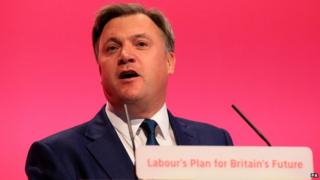 Shadow chancellor Ed Balls has rejected former Scottish Labour leader Johann Lamont's claim that the UK party treats Scotland like a "branch office".
Mr Balls told the BBC: "We're a UK party but have a really vibrant and dynamic Labour party in Scotland."
Ms Lamont criticised the party's UK leadership when she resigned as leader, calling some Labour MPs "dinosaurs".
Mr Balls said: "I saw the remarks, I understand she's resigning and in those moments you say those kind of things."
He said Ms Lamont had done a "good job", but argued the the next leader needed to "stand up against the separatists and make the case for a fair Scotland".
He added: "I think what people in Scotland want is a strong voice for Scotland in Scotland and in the UK, delivering in Holyrood and making sure the Scottish voice is heard loud and clear.
"I'm confident the next Labour leader will do that."
Ms Lamont has described some Labour MPs as "dinosaurs" who failed to recognise that "Scotland has changed forever" after September's referendum on independence.
"Scotland has chosen to remain in partnership with our neighbours in the UK," she added.
"But Scotland is distinct and colleagues must recognise that.
"There is a danger of Scottish politics being between two sets of dinosaurs - the Nationalists who can't accept they were rejected by the people, and some colleagues at Westminster who think nothing has changed."
Several prominent MSPs including Kezia Dugdale, Jenny Marra and Jackie Baillie have ruled themselves out of the running for Scottish Labour leader, as has the acting leader, MP Anas Sarwar.
Scottish Labour's health spokesman, MSP Neil Findlay, said he wanted former prime minister Gordon Brown to take over.
At Westminster, it is thought that shadow international development secretary Jim Murphy is the most likely candidate, although he has yet to declare his hand.