Scottish Labour leadership: MSP Sarah Boyack is first candidate to stand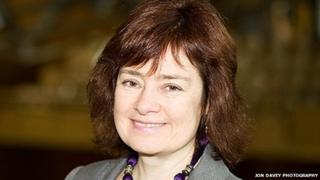 MSP Sarah Boyack is the first candidate to formally announce that she will stand for the leadership of the Scottish Labour Party.
The former environment minister speaks for the party on local government at Holyrood.
There are no other declared candidates to succeed Johann Lamont, who quit the post last week.
The shadow international development secretary, MP Jim Murphy, has yet to rule himself in or out.
Earlier in the day Scottish Labour's interim leader, Anas Sarwar, said he expected "an array of candidates" to put themselves forward.
A number of MSPs have ruled themselves out, as has former PM Gordon Brown.
Mr Sarwar, who was Ms Lamont's deputy, said he did not want to lead the party.
Interviewed on BBC Radio's Good Morning Scotland, Mr Sarwar said he wanted to concentrate on working for Labour victories in the 2015 general election and the 2016 Scottish Parliament election.
Mr Sarwar, who was elected to Westminster in 2010, added: "I'm a 31-year-old, first-time-in-Parliament politician, who has the honour and privilege to have been elected by almost 75% of the members to be deputy leader.
"I owe them a responsibility to do my job the best I can."
What's the timetable?
Date
Event
Friday, 31 October
Nominations officially open
Tuesday, 4 November
Nominations officially close
Monday, 17 November
Voting gets under way
Saturday, 13 December
New leader elected
MSPs Jenny Marra and Kezia Dugdale, from Holyrood's younger generation, have also ruled themselves out of the running, as has one of the party's senior figures.
A source close to former prime minister Gordon Brown, who had been urged by some MPs and MSPs to stand, insisted the Fife MP was "not returning to frontline politics".
MSP Jackie Baillie, who will be in Ms Lamont's place for first minister's questions on Thursday, has also ruled out taking on the job.
MP and former Scottish Secretary Jim Murphy has been seen as a front-runner but has yet to declare his position.
Meanwhile, a Labour MP has said the party should apologise for what is going on in Scotland.
Thomas Docherty, who represents Dunfermline and West Fife, made his comments as he backed Mr Murphy to become the new leader.
'Contest'
Mr Sarwar said: "Johann resigned late on Friday, we only agreed the process on Sunday, declarations opened yesterday and we still have candidates that will, I'm sure, declare in the coming days.
"Compare that to the SNP: they only had one declared candidate and they had a coronation, not a contest."
He added: "I expect a contest. I expect an array of candidates to put themselves forward."
The Glasgow MP rejected Ms Lamont's charge that the UK Labour leadership ran Scotland like a "branch office", an allegation also dismissed by shadow chancellor Ed Balls on Monday.
He explained: "Our identification isn't to Westminster.
"We live in Scotland, our families are in Scotland, we stand in Scotland, we represent Scottish constituencies and Scottish Labour is what is on our ballot paper, not Westminster.
"We are Scottish Labour politicians who want to take power away from Westminster and give power to people."
Mr Sarwar also dismissed Ms Lamont's concerns that Scottish Labour general secretary Ian Price was removed by the UK party without her knowledge, insisting Mr Price "resigned".
Following her resignation, Ms Lamont attacked some Westminster colleagues, claiming: "There is a danger of Scottish politics being between two sets of dinosaurs - the Nationalists who can't accept they were rejected by the people, and some colleagues at Westminster who think nothing has changed."
---
How is the new leader elected?
Strathclyde University politics Professor John Curtice explains that an electoral college will help produce the next Scottish Labour Party leader.
He says there are in effect three separate ballots which are each worth a third of the vote.
One third comes from the Labour parliamentarians at Strasbourg, Holyrood and Westminster.
One third comes from members of the party in Scotland
And one third comes from members of affiliated trade unions and affiliated societies