SNP's Sturgeon says UK withdrawal from EU 'must have' four nation backing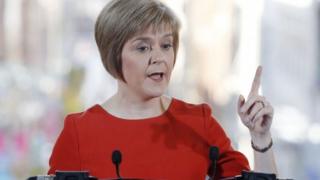 A referendum in favour of leaving the European Union would need to have the clear support of the UK nations, the SNP's Nicola Sturgeon has insisted.
She said England, Scotland, Wales and Northern Ireland should each deliver a majority vote to make withdrawal legal.
David Cameron has promised a referendum on EU membership if the Conservatives win next May's General Election.
At prime minister's questions, Mr Cameron insisted any vote would be decided by a UK-wide majority.
In response to a question from Conservative MP Bill Cash on Ms Sturgeon's comments, he told MPs: "We are one United Kingdom. There'll be one in/out referendum."
UKIP MEP for Scotland David Coburn said Ms Sturgeon's idea was "ridiculous".
Ms Sturgeon plans to write to other political parties seeking support for her idea.
She suggested that if a referendum Bill came before the House of Commons her party would table an amendment.
It would require that, for the UK to leave the EU, it would need "not just a majority across the whole UK but a majority in each one of the four nations - England, Scotland, Wales and Northern Ireland".
---
Glenn Campbell
Political Correspondent
The SNP wants Scotland to negotiate its own relationship with the European Union as an independent country.
Having lost the independence referendum, that's not going to happen anytime soon.
Instead, Scotland's relationship with the EU could be settled in a UK-wide referendum on membership.
An in/out vote of this sort is what David Cameron has promised if he wins next year's general election.
He hopes to be arguing for us to stay in if he manages to successfully renegotiate the terms of UK membership.
The SNP thinks a rising tide of anti-EU feeling, particularly in England, could result in a vote for withdrawal anyway.
But what if, in these circumstances, a slightly less skeptical Scottish electorate voted to stay in?
Nicola Sturgeon thinks that should effectively veto a UK exit.
The prime minister has rejected that suggestion and Labour has said its "hypocritical" because neither England nor any part of Scotland could veto Scottish independence.
UKIP think it is a "ridiculous" attempt by the SNP to hold the UK to ransom.
Ms Sturgeon insists she is merely testing what say the nations that make up the UK family have in the future of the country.
---
In an interview with BBC Radio's Good Morning Scotland, Ms Sturgeon said: "If you look at states like Australia and Canada there are some circumstances where changes to their constitution requires not just a majority across the country but in each of the provinces as well.
"The UK is not a unitary state it is a family of nations, it is made up of the four home nations.
"We were told during the referendum that each of these nations had equal status, that our voices mattered.
"If that is the case I think it is right that something that would have such significant consequences for jobs, for the economy, for our standing in the world, it should require the consent of not just the UK as a whole but that family of nations."
Mr Coburn told Good Morning Scotland: "Our country is Great Britain. I don't hold a Scottish passport I hold a British passport.
"We are one country. That was decided once and for all at the referendum.
"What part of no does she [Nicola Sturgeon] not get? No, neigh, naw. We are all British voters. That was decided at the referendum."
Scottish Labour's interim leader, Anas Sarwar, commented: "Nicola Sturgeon has today proposed that major constitutional change for the UK requires the agreement of the four nations of the UK.
"This presumably is also her position on any future independence referendum, or is she again trying to face different ways at the same time?"
Confident of success
Mr Cameron said he was keen to renegotiate the UK's relationship with Brussels ahead of a possible 2017 in/out referendum on EU membership.
But the prime minister has so far declined to say whether he would back a British exit if he did not get the concessions he wanted. The Tory leader insisted he was confident of success in the negotiations.
Ms Sturgeon believes a referendum is inevitable "regardless of who wins the next election".
She added that the anti-European politics of the UK Independence Party (UKIP) was on the rise given its recent win at the Clacton by-election.
Future membership of the EU will be a key theme in a speech Ms Sturgeon will make to the party faithful at a mass rally in Edinburgh later.
She is expected to point to academic research showing that an in/out referendum on EU membership would generate a different result on either side of the border - with Scotland voting to stay in and the UK as a whole voting to exit.
Ms Sturgeon reckons her proposal would give "proper protection" against any of the nations of the UK "being removed form the EU against their will".
'Economic vandalism'
Earlier this year, Labour leader Ed Miliband said a referendum on the EU was "unlikely" to take place if Labour won the next general election.
But he said his party would "guarantee" an in-out referendum if the UK was being asked to transfer more powers to Brussels.
The Liberal Democrats are the most vocally pro-European of the main Westminster parties.
The party's leader Nick Clegg compared leaving the EU to an "act of monumental economic vandalism".
UKIP, which won its first Westminster seat earlier this month, said leaving the EU would improve prosperity by cutting bureaucracy and that it would allow the UK to regain control of immigration.