Global slowdown for black and distilled gold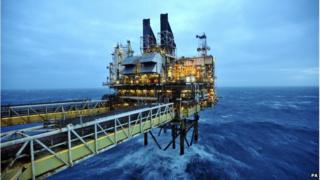 There's both symbolic and a real significance behind Shell's announcement to close down and scrap two of its platforms in the Brent field, east of Shetland.
And it tells us quite a bit about the impact of global forces on the Scottish economy, which are also at work in the announcement today that Diageo is halting Scotch whisky distillery investment plans in response to weakening global demand.
The price of crude oil from the Brent field has long been the benchmark for the world's oil markets outside North America (where 'Texas light crude' has that role).
Production from the giant offshore field has fallen away. It used to pump 500,000 barrels per day. That peak was in 1984. For the past two decades, it's produced mainly gas, peaking in 2001.
One Brent platform, Delta, was permanently closed three years ago, and the only remaining one, Charlie, has its days numbered.
Shutdowns
The Brent crude price remains one of the indicators of health and vital signs in the global economy. But it's now based on a cocktail of oil from different North Sea fields, notably including Buzzard.
Indeed, that has raised questions of whether it's still fit for market purposes, and also some fears that Chinese ownership of the Buzzard field gives Beijing undue clout in setting the price of oil.
It's the slowdown of growth in China and the global economy that has brought forward the demise of Brent Alpha and Brent Bravo. Closed down for inspection and maintenance in May, when it was already clear that cost pressures were building. These included unplanned shutdowns and safety measures in the wake of the Macondo explosion and spill in the Gulf of Mexico.
With sharply falling production, it follows that the cost of production per barrel has been rising at an alarming rate. And the past few weeks have seen that Brent crude benchmark fall sharply, as demand has slowed and the leading Arab exporters have indicated they're not inclined to pull back supply in order to get it rising again.
Brent crude is down by nearly a quarter since June, dipping below $83 per barrel. Regular readers will know that industry group Oil & Gas UK reported early this month that if it reached $80 per barrel, a third of investment plans would be put on ice and field closure plans would be brought forward.
It's worth remembering that, unlike oil production from the land, the fields and equipment can't simply be mothballed. It costs a lot to keep a platform out at sea, even if it's not producing. It corrodes. And particularly when it's getting old, you use it or you lose it.
That's why the UK Treasury is drawing up reforms to the tax regime, expected in December, which are intended to incentivise oil firms to keep using and invest in upgrading that old equipment, while sharing pipelines and other facilities.
Scotch-thirsty
The global slowdown also helps explain why Scotch whisky is pulling back from very rapid expansion of its distilling capacity.
Diageo, with 40% of production, has been to the forefront of that, opening the Roseisle super-distillery in Moray, with the capacity to make 10 million litres of spirit per year (most distilleries produce 2-3 million).
At Teaninich, near Invergordon in Easter Ross, it planned a similar scale of investment, costing £50m. But that's one of several projects now put on ice while Diageo tries to match supply with lower forecasts for demand. That's not an easy thing to do when your product doesn't reach the market for eight years or more.
It's well known that Scotch whisky was tapping into the new middle class in emerging economies. But the Brazilian economy has since stagnated. Another Scotch-thirsty export market, Venezuela, has hit serious economic problems, including that falling oil price.
And in China, not only has growth slowed significantly, but there's been a crackdown on the giving of expensive gifts, such as super-premium whisky, when it can amount to corruption.
The Scotch Whisky Association recently announced export figures that were 11% down by value in the first half of the year, compared with the same period in 2013. The way the market has been going, the drop in volume of exports will be substantially greater.
Bounce back
It's not all bad news for Scottish exports. Some are doing just fine. In Renfrewshire, the Scottish Leather Company has been winning contracts for its high-end products.
Although profits were flat, its results for the year to March show revenue was up 18% to £136m, and 84% of that is in exports.
Then there's Endura, which has set a cracking pace in brightly-coloured performance cycling gear. The Livingston-based firm has just secured a new funding package from Maven Partners to expand beyond the 30 countries and 3,000 independent bike dealers through which it already distributes.
And though less export-oriented, at least the leisure sector is doing well. Not only has the latest jobs survey shown a significant rise last year in tourism employment, by nearly 30,000 to 211,200, but another 60 leisure jobs are being created in East Kilbride.
That's where the Go Ape people are spending £2m on an indoor centre with 100 inter-connected trampolines, suitable for parkour, dodgeball and football.
So even as a global slowdown is under way, at least one part of the economy is bouncing back.