Scottish Labour leadership: Sarwar resignation sparks double contest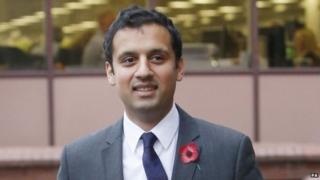 Scottish Labour is seeking both a new leader and a new deputy leader after Anas Sarwar resigned.
The Glasgow Central MP announced on Thursday evening he was standing down from his role as deputy.
He is currently interim leader of the party following Johann Lamont's departure and will remain in that role until her replacement is announced.
Two polls have suggested Labour is on track to lose the vast majority of its Scottish MPs in the general election.
Ms Lamont quit last Friday, accusing Labour's UK leadership of treating Scotland like a branch office.
Mr Sarwar's resignation came after fellow MP Jim Murphy announced he was entering the leadership race against Lothian MSPs Neil Findlay and Sarah Boyack.
Contests for the leadership and deputy leadership will run concurrently.
Mr Sarwar, the MP for Glasgow Central, said: "I have come to a decision I believe is in the best interest of the Scottish Labour Party.
"It's my intention to hand over the leadership to a new team on 13 December.
"I think it's also right that we have a concurrent leadership and deputy leadership election.
"This will allow a Scottish Labour party, its members and affiliates the opportunity to not only elect a leader, but a new leadership team focussed on winning in 2016."
---
ANALYSIS
Glenn Campbell, BBC Scotland political correspondent
Anas Sarwar believes his decision to create a contest for the post of deputy Labour leader in Scotland is in the "best interests" of his party.
It also removes a potential problem for Jim Murphy's campaign to replace Johann Lamont as leader.
Some would have been reluctant to back an MP for the top job, while the deputy is also a member of the UK parliament.
That combination would have left Labour without an elected leader at Holyrood until Mr Murphy was able to secure a seat.
Now it will be possible for MSPs, MPs and even MEPs to compete for the deputy leadership.
Some of those backing MSPs Sarah Boyack or Neil Findlay for leader might prefer a deputy from outside the Scottish Parliament, especially given that the next big electoral test is a UK general election.
---
Lothians MSP Kezia Dugdale and North East Scotland MSP Jenny Marra had been tipped as possible candidates to succeed Mr Sarwar as deputy leader.
However, speaking on BBC Radio Scotland's Morning Call programme, Ms Marra said she would "absolutely not" be standing for the position.
Labour leader Ed Miliband was in Scotland on Thursday evening to attend a party function in Glasgow.
In an interview with the BBC he admitted Labour faced a "big challenge" in Scotland and he said he would work closely with whoever was elected as the new Scottish leader.
His visit coincided with two opinion polls which indicated a dramatic fall in Labour's Scottish support, and a surge in support for the SNP, which forms the majority administration in the devolved Scottish Parliament.
The SNP has seen its membership triple to more than 83,000 since September's independence referendum, despite the party being on the losing side.
An Ipsos/Mori poll for broadcaster STV suggested that 52% of Scots would vote for the SNP if there was a Westminster election tomorrow, and only 23% for Labour. It said this result would give the SNP 54 seats, with Labour's tally being reduced from 40 to only four.
It also suggested two-thirds of Scots want another independence referendum to be held in the next 10 years while more than half think a vote on the country's future should take place within just five years.
The YouGov poll for The Times put the SNP on 43%, which it said would give them 47 seats, with Labour on 27%, which would slash their number of Scottish MPs to 10.
Such a result in next May's general election would seriously damage Mr Miliband's hopes of becoming the next UK prime minister.
SNP deputy leader Nicola Sturgeon, who will replace Alex Salmond as the country's first minister next month, said the polls showed that Labour was in "meltdown" in Scotland.
Ms Sturgeon added: "More and more people are choosing to put their trust in the SNP as disillusion with the entire Westminster establishment grows.
"London Labour's treatment of their party in Scotland as nothing more than a branch office has left them in meltdown.
"As a result, people across the country realise that Ed Miliband doesn't speak for them and Labour support is in freefall."
Speaking to the BBC's Good Morning Scotland programme, Mr Findlay admitted the polls were "pretty dreadful" for Labour.
The Scottish Labour leadership contender said: "I don't think we should pretend that they are not. That requires a political response. It requires us to have policies that people recognise, and recognise as Labour, and we are addressing their issues.
"If we don't have that political response, then we are going to be in trouble."
What's the Labour leadership timetable?
Date
Event
Friday, 31 October
Nominations officially open
Tuesday, 4 November
Nominations officially close
Monday, 17 November
Voting gets under way
Saturday, 13 December
New leader elected
Speaking about his leadership bid, Mr Findlay said he wanted to focus on social care, describing it "as the biggest crisis in our country at the moment" and claiming it had been "completely ignored" by the Scottish government.
He also said he would commit to "full employment", and said the living wage "should become the norm".
Speaking to the same programme, fellow leadership contender Ms Boyack said she would focus on "social, environmental and economic justice", and pledged to work on issues such as pay day loan companies, inequalities in housing, and fuel poverty.
In a bleak assessment of Labour's current state, senior MP Thomas Docherty warned on Thursday that the party was in a "dreadful position" in Scotland.
The shadow deputy Commons leader told BBC Radio 4's World At One: "We have a moribund party in Scotland that seems to think that infighting is more important than campaigning, and we have a membership that is ageing and inactive.
"We can return to being the grown-up party that wants to be in government or we can self-indulge like a throwback to the 1980s and watch our party implode, the SNP win again, the Tories win again, and have another referendum."