Unite union backs MSP for Labour job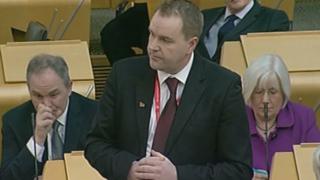 The UK's biggest union has urged its members to back Scottish Labour's health spokesman Neil Findlay to become the party's new leader.
Unite said the MSP understood the concerns of working people and would "fight doggedly" on their behalf.
Construction workers' union Ucatt has also backed the former bricklayer.
Mr Findlay is facing competition from MP Jim Murphy, who is seen as the frontrunner in the contest, as well as fellow MSP Sarah Boyack.
Johann Lamont announced last month that she was stepping down as Scottish Labour leader.
At the time, she accused party colleagues in Westminster of treating Scotland like a "branch office".
The new leader will be announced on 13 December, after a contest decided by a vote involving Scottish Labour parliamentarians, party members and affiliated trade unions and societies.
Mr Findlay has already won the backing of Unison, which represents about 150,000 public service workers in Scotland, as well as other union support.
Announcing Unite's backing for Mr Findlay, the union's Scotland leader Pat Rafferty, said: "Neil's impressive record of working for working people and their communities at Holyrood and in his role as shadow health minister won the day.
"In Neil we are confident that our members will find a leader who not only understands their concerns but will fight doggedly on their behalf. They can be assured that Neil is on their side."
Mr Findlay said: "I'm obviously pleased that I have the confidence and trust of Unite and other unions as well as fast growing number of Labour party members in driving forward ideas and policies that will deliver a better life for working people in Scotland."
Ucatt said it was backing Mr Findlay because of his commitment to a number of union campaigns including full employment and the Living Wage.
The union said it was supporting MP Katy Clark for deputy leader.
Ucatt's general secretary Steve Murphy said: "Neil Findlay and Katy Clark will create a dynamic and radical leadership team. Their policies will benefit working people who feel they are being ignored by other political parties."
Mr Murphy, a former secretary of state for Scotland, has won majority backing among Scottish Labour MPs, MEPs and MSPs.