SNP deputy candidates make their case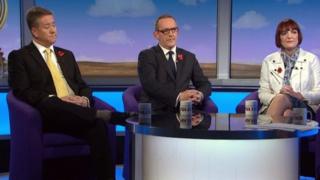 The candidates for the post of deputy leader of the SNP have been making their final pitch to voters.
Keith Brown, Angela Constance and Stewart Hosie have all been speaking to BBC Radio Scotland.
The issue of who will be deputy to SNP leader in waiting Nicola Sturgeon will be settled next week.
Keith Brown and Angela Constance represent the nationalists at Holyrood while Stewart Hosie is an elected representative at Westminster.
Keith Brown told the Crossfire programme: "The first thing I called for was for all party members to have the chance to vote in the selection of Westminster candidates.
"This now looks like it is going to happen.
"I'm also proposing a youth academy in the party and a revitalised policy process through the party as well.
"Both in terms of the ideas and in terms of the experience I have I think I'm able to do the two fundamental things required in the post: first of all to deputise for the leader... and also to make sure the party members are the ones who take the decisions on fundamental issues which affect the party."
Campaign for independence
Angela Constance spoke of the need to learn lessons from the referendum campaign and to ensure more prominence for women in politics.
She said: "I've made three pledges in the campaign: to continue the campaign for independence head, heart and soul; to ensure that to voice of our members is always heard; and to reach out to the wider 'Yes' movement.
"I've also spoken very plainly about how we need to learn some valuable lessons from the referendum. We of course accept the result but we really need to learn from that experience to move on from it."
She added: "We're on the cusp of something very special in Scotland - we're about to get our first woman first minister but we have to do much better than getting one woman MP."
Westminster chief whip Stewart Hosie said: "The plans I have for the party, which of course have to be agreed, to strengthen locally, regionally and nationally I think that's the right approach to take in terms of how we continue to grow and maximise the impact of 85,000 SNP members.
"I also think my experience in the party previously - as national secretary, national organiser, chair of a national assessment panel... I think that's really good experience for the role of deputy leader today.
Mr Hosie highlighted the importance of the 2015 general election, adding: "The next year's election is not a re-run of the referendum.
"It's the opportunity to hold Westminster's feet to the fire, to make sure unionism actually delivers on the promise it made."