Scottish figures for assaults on firefighters 'shocking'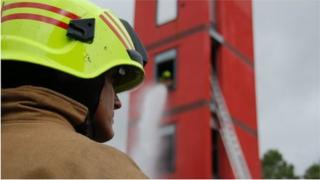 Official figures have indicated there have been 124 assaults on firefighters in Scotland in the past two years.
The number was obtained after a request from the Scottish Liberal Democrats.
The party's justice spokeswoman Alison McInnes said it was "shocking" that firefighters are having to deal with violent attacks.
The Scottish government said it would not tolerate such attacks and severe penalties were in place for those convicted.
The figures referred to 2013/14 up to 30 October.
They showed 42 incidents involving verbal abuse, 17 of physical abuse and 63 incidents in which missiles were thrown.
Ms McInnes said: "Our figures show that over the past two years alone Scotland's firefighters have been subject to over 100 violent assaults whilst on duty. These despicable acts of violence include verbal and physical attacks on firefighters.
"I'm sure people will be surprised to learn that the majority of assaults were where firefighters were subjected to missiles being thrown at them whilst on duty.
"It is shocking that our firefighters are having deal with violent assaults in their day-to-day work. Their job protecting communities across Scotland is dangerous enough without having to defend themselves against these selfish acts of violence committed by a minority of individuals."
A spokeswoman for the Scottish government said: "Our firefighters do a remarkable job in very challenging circumstances, often putting themselves in danger to protect the public.
"We simply will not tolerate such attacks against those who provide such a vital service. That is why there is already protection in place under Scotland's common law of assault which offers maximum penalties of up to life imprisonment and unlimited fines.
"This gives the police, prosecutors and courts the tools to ensure those who attack public facing workers can be dealt with appropriately and effectively.
"More people than ever before are being convicted under the Emergency Workers (Scotland) Act 2005 with the penalty up to 12 months imprisonment, a £10,000 fine or both and more and justice agencies are also taking tough action against attacks on council staff and other public facing workers using the laws we already have in place."