Nicola Sturgeon promises 'strong focus' on inequality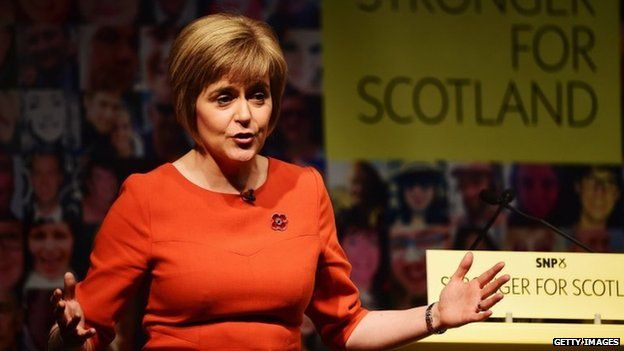 Nicola Sturgeon has promised to lead a government with a "sharp focus" on tackling inequality when she becomes first minister.
In a BBC interview, she said closing the gap between rich and poor was "one of the big tasks" she would face.
Labour said the SNP had failed to introduce a single progressive policy while in charge of governing Scotland.
Ms Sturgeon is due to succeed Alex Salmond as first minister next week after seven years as his deputy.
She said there was "deep anger" in the country about the level of inequality.
"I think we need to, as a parliament and as a society, look at how we refresh our approach to dealing with that," she said.
Asked if reducing the gap between rich and poor would be the test of her leadership, Ms Sturgeon indicated that it would.
"I would very much like to think that's the case," she said.
"It would be glib of me as a politician to sit here and say that in four years, five years, 10 years I can completely eradicate that.
"But I will be absolutely open and frank about this. I see one of the big tasks I've got in leading a government is to close that gap.
"And I will want to ensure that everything I am doing as first minister is designed to help to do that and not to take us in the opposite direction".
The Scottish government already has a target to reduce income inequality by 2017.
Despite that, there has been "very little change" in the key measure of income inequality since the creation of the Scottish Parliament.
That figure was 110,000 higher than in the previous year, and includes almost one in five children.
Labour's social justice spokesperson, Jackie Baillie MSP, criticised the Scottish government's record.
She said: "It is ridiculous of anyone in the SNP to suggest they are a party of progress when after seven years in government they are yet to introduce a single progressive policy.
"Indeed, on their watch child poverty has gone up, fuel poverty has gone up and inequality has widened."
Ms Sturgeon, who is currently the deputy first minister, said the UK government's welfare reforms were the "key driver" for rising inequality.
"That's one of the big reasons that in the Smith Commission process I want to see a substantial transfer of responsibility for welfare moved from Westminster to the Scottish Parliament," she said.
Scottish Secretary Alistair Carmichael said the Scottish government should "work constructively" with UK ministers rather than "finger pointing".
"The benefits system alone will never solve child poverty," he added.
"The way to solve child poverty is to get the parents of these children off benefits and in to work.
"That is the whole purpose of the move to universal credit and the welfare reform programme."
In an article on the Labour List website, Shadow Scottish Secretary Margaret Curran demanded more detail from the Scottish government.
"We've heard lots of talk from Nicola Sturgeon about fairness, inequality and social justice, but she hasn't said anything about what she will do about it" she wrote.
The new first minister is expected to be formally nominated by the Scottish Parliament on Wednesday 19 November.
Ms Sturgeon will set out her programme for government soon after taking over from Mr Salmond, who has been in office since 2007.
Related Internet Links
The BBC is not responsible for the content of external sites.