Scottish Labour leadership rivals pledge party reforms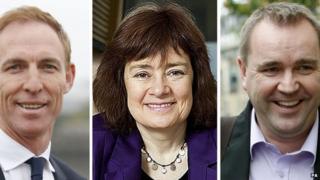 Candidates in the race to become the new Scottish Labour leader have said future decisions about how the party is run will be made in Scotland.
MP Jim Murphy said the party must take more responsibility in areas like policy, fundraising and campaigning.
Rival Neil Findlay, an MSP, said he would involve all party members and unions to make it more "autonomous".
Johann Lamont quit as Scottish Labour leader last month, hitting out at Westminster colleagues.
She accused them of treating the party in Scotland like a "branch office".
Mr Murphy, seen as the frontrunner in the contest, said the £155,000 levy currently paid to the UK party by Scottish Labour councillors should stay in Scotland.
Ahead of the leadership election result on 13 December, Mr Murphy also pledged to invest at least £5,000 in each Labour-held Scottish and UK parliamentary seat, and in key target constituencies.
He also promised a "radical culture change" in the way the party campaigns.
'Unprecedented power'
Mr Murphy, said: "We will always value our links to the UK Labour Party. Only the Labour Party, not the nationalists, can win elections at a UK level.
"But valuing those links doesn't mean we can't do things our own way.
"People should be in no doubt - if I am elected leader, decisions about policy and how the Scottish Labour Party is run will be taken in Scotland, nowhere else."
The shop workers' trade union Usdaw has announced it is backing Mr Murphy's leadership campaign. It is the second trade union to back him, following Community's decision to support him.
Mr Findlay, whose leadership campaign has won significant union support - including from Unite, Unison and the Communication Workers' Union - said: "The next leader of the Labour Party in Scotland will have unprecedented powers over the structures and procedures of the party.
"If I am elected as leader of the Scottish Labour Party I make this promise to all members of the Labour Party and affiliates, including trade unions, that I will listen and work with them as together we work to make Scottish Labour bigger, better and more autonomous.
"A Labour Party has to be collective and co-operative in nature - and under a Neil Findlay leadership , that's what the Scottish Labour Party will be."
A third candidate, MSP Sarah Boyack, is also standing to be Scottish Labour leader.
The contest will be decided by a vote involving Scottish Labour parliamentarians, party members and affiliated trade unions and societies.
Meanwhile, MP Katy Clarke, who is standing for the also vacant deputy leader post against MSP Kezia Dugdale, said she had won significant union backing.
This included support from the Communication Workers' Union, Unite and Unison.