Admiral raises doubts on Scottish warship work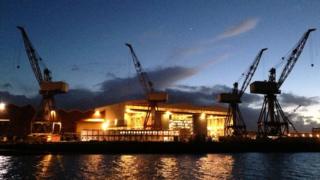 The Ministry of Defence (MoD) has insisted that it will continue to ensure that Royal Navy warships are built in the United Kingdom.
First Sea Lord Admiral Sir George Zambellas had been quoted as saying the Type 26 Global Combat Ship would not "necessarily" go to British industry.
He warned about issues of affordability concerning UK suppliers
Defence contracts were a key issue in the run-up to September's independence referendum.
Pro-union politicians claimed Scotland's shipbuilding industry would automatically be precluded from MoD deals in future if it left the UK.
SNP defence spokesman Angus Robertson said the First Sea Lord's comments "puts the lie to yet another Project Fear scare story rolled out during the referendum".
Mr Robertson said: "Time after time we were told by the No campaign that warships could only be built in the UK. The best place to build these frigates is on the Clyde and everybody knows that.
"It would be a serious breach of trust if this is now being reconsidered - Scotland needs and deserves this work."
Sir George's comments were reported in industry publication Defense News.
It quoted him as stating: "The acquisition process looks for a solution... to be able to give us what we need. The affordability question that comes from that depends on the best that industry can deliver.
"You'll notice, I haven't necessarily said that that's the British industry, because the decision has not been made as to exactly what that solution to the requirement will be, and we wait to see what comes of it."
An MoD spokesman said later: "As the Defence Secretary has made very clear, complex UK warships are only built in UK shipyards and we have no plans to change this.
"And while this contract has not yet been awarded, we have also been clear that from 2015 the Clyde will be the UK's only shipyard that builds complex warships."
Scottish Secretary Alistair Carmichael said: "Our position is clear. The UK builds its warships within the UK, and always has done.
Meanwhile, Labour has insisted the UK government has "engaged in posturing" which has caused concern for shipyard workers.
Shadow defence minister Gemma Doyle said: "Labour is committed to retaining a sovereign shipbuilding capability in the UK and I want to see Type 26s being built on the Clyde.
"It is outrageous for the government to leave people worrying about their jobs because they are engaged in posturing around negotiations. The defence secretary needs to outline his position immediately.
"If this Tory Government are honestly considering placing this order overseas they will face the fight of their lives from the Scottish Labour Party and all of us who support shipbuilding on the Clyde."