SNP to allow non-members to stand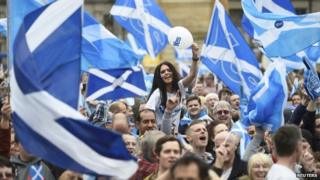 The SNP conference has voted in favour of allowing non-members to stand as candidates in the general election.
The move is designed to appeal to activists who campaigned for a "Yes" vote in the independence referendum.
The plan was backed at its annual conference, which opened in Perth on Friday morning.
Under the proposal, prominent "Yes" campaigners who are not in the SNP would be able to stand for election under the party's overall banner.
In order to do so, they would need to be on an approved list and be adopted by a local constituency.
Potential candidates normally need to have been an SNP member for at least 12 months.
Party sources have told BBC Scotland that the change was designed to harness "the strength and diversity" of the wider "Yes" campaign.
The motion was adopted by delegates in Perth as Alex Salmond handed over the leadership of the party to his deputy Nicola Sturgeon.
Surge in membership
It will now be passed to the party's National Executive Committee for further exploration, before going to the SNP's National Council for final approval.
Speaking to BBC Radio Scotland ahead of the conference, Ms Sturgeon, who next week will become Scotland's first female first minister, said the change came after a massive surge in membership in the aftermath of September's independence referendum.
The SNP had about 25,000 members before that vote, but new recruits have flocked to join the party since the "No" vote, with membership now standing at more than 85,000.
Ms Sturgeon told the Good Morning Scotland programme the change would also mean some of those new members could put themselves forward and stand.
She said: "We want to open up potentially our candidates list for Westminster firstly to people who've recently joined the SNP but in the normal course of things wouldn't satisfy our membership criteria to be a candidate. Normally you have to be a member of the SNP for several months before you can be a candidate.
"We've got tens of thousands of new members with skills, with talents, with something big to contribute. I want to give them the opportunity of being an SNP candidate."
'Share a platform'
But she also said: "I think it does open the potential for people who were 'Yes' campaigners who may not be members of the SNP to share a platform with the SNP so we're open to exploring that."
Ms Sturgeon said that could mean people such as Jeane Freeman - a former adviser to Labour first minister Jack McConnell who was part of the Women for Independence campaign - could stand for election.
"Jeane Freeman would be a good example of the kind of person I'm speaking about," she said.
But she stressed SNP constituency branches would need to back having a non-member as a candidate.
Ms Sturgeon said: "This is about the choice that SNP constituencies might be given to choose their candidates."
SNP Westminster leader Angus Robertson said: "The referendum campaign changed Scottish politics forever. During the referendum one of the greatest strengths of the 'Yes' movement was its diversity, and the fact that it drew in people across Scotland from all walks of life.
"A momentum for change is sweeping Scotland, and has helped see the membership of the SNP surge to over 85,000 and give the party a strong poll lead for both Westminster and Holyrood elections.
"The SNP will continue to be the voice of positive change in Scotland, and by being open to new people and new talent among our candidates, we can ensure that Scotland has the strongest possible voice at Westminster."