Alex Salmond to donate first minister's pension to charity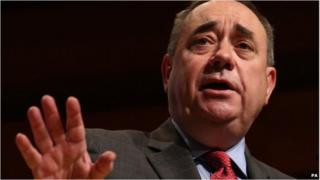 Alex Salmond is to donate the annual pension he will receive after stepping down as Scottish first minister to good causes.
The former SNP leader said that, for as long as he continues to be an MSP, the £42,501 sum would go into a trust.
It would then be distributed to charities in the north east of Scotland, with youth and community groups the main beneficiaries.
Mr Salmond said it was the "right thing to do".
He will be replaced as first minister by Nicola Sturgeon later this week, but will continue as the MSP for the Aberdeenshire East seat at Holyrood and is considering a return to Westminster.
When Mr Salmond was both an MP and MSP between 2007 and 2010, he donated one of his parliamentary salaries into the Mary Salmond Trust, which was named after his late mother.
'Not retiring'
It has so far distributed more than £92,000 to 239 groups and young people.
Mr Salmond confirmed his first minister's pension would also be paid into the trust.
He added: "I have already made it clear that I am not retiring from politics and therefore this is the right thing to do.
"The Mary Salmond Trust has done a great job supporting young people, community and charitable causes across the north east and I am delighted that this work can now continue into the future."