Airgun law change 'could affect thousands'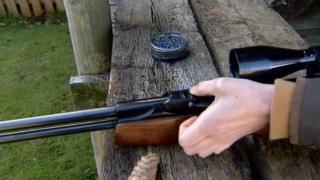 A senior police officer has said thousands of people could fall foul of new laws on airguns.
Under the Scottish government proposals, anyone who owns an airgun will need a licence.
Calum Steele of the Scottish Police Federation told MSPs that the changes could affect people across the UK.
He also said the change in the law could harm the future prospects of young people who own an unlicensed airgun.
There are an estimated 500,000 air weapons in Scotland.
Under the Scottish government plans, anyone wanting to own an air gun would need to demonstrate they had a legitimate reason for doing so.
Mr Steele, the general secretary of the federation, was speaking at a meeting of the Local Government and Regeneration Committee at Holyrood.
The committee is currently taking evidence on the Air Weapons and Licensing (Scotland) Bill, which was introduced to the Scottish Parliament by Justice Secretary Kenny MacAskill in May.
'Relatively minor'
Mr Steele said: "I suspect that there are many people - possibly tens of thousands of individuals - out there who may well find themselves falling foul of the criminal justice system because of licensing offences, something that has never featured before.
"That is not just for individuals who are domiciled in Scotland, but also apply to individuals who come from anywhere else in the United Kingdom to Scotland, where there is no current considerations for moving air weapons across the borders."
Mr Steele said the proposed law change could also affect the prospects of young people who use an air weapon unlicensed.
He added: "Whilst I consider, in the early days, the potential of a prosecution or a fixed penalty disposal bring brought against someone will be recorded as relatively minor, the potential impact on these individuals later in their lives going for employment or trying to get jobs overseas could be quite devastating on the future life chances."
He was responding to a question by Motherwell and Wishaw MSP John Wilson, who asked about the costs to individuals who decided not to licence their weapons once any new law was enforced.
MSPs also heard evidence from David Penn of the British Shooting Sports Council, who argued that the government's plans would make little difference to the crime rate.
Mr Penn said: "One has to remember that there is widespread continuing use of air weapons in pony clubs, boy scouts, cadet units as well as the individual use of them.
"We never hear about this. Why? Because nothing is going wrong. There is a huge amount of use of air weapons and very, very little misuse in comparison.
"Most other countries do not see the need to licence air weapons."
The proposals follow a long-running campaign by the Scottish government to crack down on the misuse of airguns in the wake of the death of two-year-old Andrew Morton, who was shot in the head with an airgun in Glasgow in 2005.
Mark Bonini was later convicted of murdering the toddler.