Mental health workforce needs more investment says RCN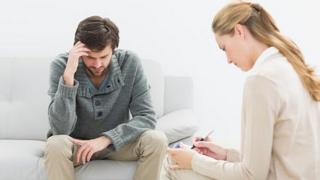 More investment is needed in mental health services, according to the Royal College of Nursing (RCN) Scotland.
A report by the organisation said that the NHS in Scotland lost 64 mental health nurses between 2011 and 2014.
The study also highlighted a 17% fall in the number of beds available in mental health services since 2010 and a 6% drop in inpatient admissions.
The RNC has called for "long-term sustainable investment in the future mental health workforce".
A Scottish government spokeswoman said that the overall number of mental health nursing staff had increased by 600 in the past five years.
She said an additional £15m investment in mental health services had been announced this week.
However, the nursing body's report said a recent reduction in the number of mental health workers in Scotland was particularly concerning as 38% of the current workforce were over 50 and could retire in the next five years.
'Complex needs'
It said: "A reduction in inpatient admissions and inpatient beds within mental health services does not mean that there can simply be a reduction in the numbers of nursing staff to improve outcomes for people with mental illness.
"While more patients are now being treated in the community, the patients that do require inpatient services now have more complex needs.
"This means that there may actually need to be an increase in the number of nurses on mental health wards to cope with the increase in patient acuity."
Norman Provan, RCN Scotland associate director, said: "The good news is that there's been a reduction in the number of patients being admitted to hospital and more patients experiencing mental health problems are now being treated in the community.
"However, those patients who do need treatment in hospital now have much more complex needs. This means that we need to see an increase in the number of nurses on mental health wards, to cope with and help treat those experiencing increasingly complex mental health problems."
'Right skills'
The organisation also raised concerns about the pressures on meeting Scottish government targets for access to psychological therapies and for mental health services for children and adolescents.
Mr Provan added: "The Scottish government has just announced a three-year innovation fund for mental health. This is a step in the right direction and there are some great examples of innovative nurse-led services in Scotland, which are improving the lives of patients with mental health issues.
"We know money is tight in the NHS, but if we are serious about treating mental illness in the same way as physical illness, then we need long-term sustainable investment in the future mental health workforce and in the short term, we need to make sure we have enough mental health nurses with the right skills to care for patients in the community and in hospitals."
The Scottish government spokeswoman said: "We recognise that mental health services, particularly those focused on children and young people, are key to the quality of life of many of the most vulnerable people in our society.
"That's one of the reasons we announced an additional investment of £15m this week in mental health services to ensure that people get the help and support they need.
"We look forward to working with stakeholders, like the RCN, as we shape how the extra funding would be best directed to address the demand for services."