Scottish Labour leadership contest: Candidates give income tax positions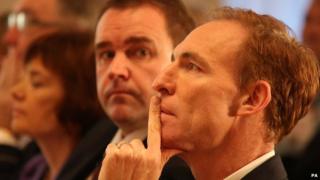 Scottish Labour leadership candidate Jim Murphy is calling on his party to support the full devolution of income tax to Holyrood.
Mr Murphy has also revealed plans for a 50p tax rate for people earning more than £150,000 a year.
Rival Neil Findlay backed calls for a 50p top rate of tax "to tackle poverty and youth unemployment".
Third candidate Sarah Boyack said she has "reservations" about full income tax devolution but wants consensus.
Labour officially supports sharing income tax between the Scottish and UK parliaments.
Mr Murphy told an audience of supporters at the Mitchell Library in Glasgow that full devolution of tax powers would be as important for the Scottish Labour party "as the changing of Clause IV was for the UK Labour party".
He added: "We will not meet our promise on more powers for Scotland, we will exceed it."
Mr Murphy said that, under his leadership, "Scottish Labour would introduce a 50% tax rate for people in Scotland earning more than £150,000 per year".
He said: "We believe that those who can afford it should pay a little more.
"There are 16,000 people in Scotland earning more than £150,000 and increasing the highest rate of tax from 45% to 50% would raise around £250m."
The MP for East Renfrewshire said he has spoken to Labour leader Ed Miliband and shadow chancellor Ed Balls about devolution of income tax powers, but not about plans to raise taxes on the rich.
Mr Murphy then brought cheers from his audience when he said Mr Miliband and Mr Balls could "read about it in the papers" like everyone else.
Tax is one of the key areas the Smith commission on further devolution, which is due to report on Thursday, has been considering.
Labour went in to commission talks proposing that Holyrood raises three quarters of the basic rate, with scope to re-introduce the 50p top rate.
But the other parties want the full devolution of income tax.
Former Labour Prime Minister Gordon Brown has warned that full income tax is a "Tory trap".
Mr Brown's chancellor Alistair Darling echoed those concerns in an article for the Financial Times on Monday, warning that the policy "would weaken the ties that bind all member nations of the UK".
Mr Darling suggested that the splintering of the UK's revenue base could leave the country with similar problems to the Eurozone, as he put it, "an integrated monetary union without a fiscal union."
---
Analysis, Glenn Campbell
BBC Scotland Political Correspondent
Those involved in the Smith commission have been tight-lipped about its deliberations.
But if you want to know roughly where it's heading, there may be clues in Jim Murphy's new position and in concessions made by the Liberal Democrats at the weekend.
On Saturday, the Scottish Lib Dem leader Willie Rennie said that he had "reviewed" his party's support for welfare to be retained as a UK-wide responsibility and was now looking to the "transfer of a major package of welfare powers" to Holyrood.
That's precisely the sort of compromise the Lib Dems might need to do in talks with the Smith Commission if they are to persuade other parties - particularly Labour - to go further on tax devolution.
Labour went into the talks arguing for Holyrood to control 15p of the basic rate of income tax, with scope to re-introduce the 50p top rate.
Now, one of the candidates for the leadership of the Scottish party, Jim Murphy, is urging Labour to support the "full devolution" of income tax which is already backed by the Conservatives, Liberal Democrats, SNP and Greens.
That's precisely the sort of compromise that Labour might need to do in talks with the Smith commission, if they are to persuade other parties - particularly the Lib Dems - to support their plans for housing benefit and attendance allowance to be devolved.
The search for consensus requires compromise. The extent to which Lord Smith's commission has achieved both will become clear when it reports on Thursday.
---
Rival leadership candidate Neil Findlay said: "Devolving all of income tax is an idea that has been widely canvassed round the Labour movement for a number of years - it was suggested in the Red Paper Collective book to which I contributed for example.
"The test of any devolved powers is whether politicians are willing to use them to address and prioritise the deep-seated problems facing Scotland.
"I will use existing and new powers, whatever they turn out to be, to tackle poverty, youth unemployment, the social care crisis and to build desperately needed social housing to tackle the housing crisis."
Mr Findlay added: "Any devolution of taxes must ensure that we secure a good deal for Scotland. But, let's be clear, constitutional change does not equal political change.
"On tax, I believe in the principle of progressive taxation where the people with broadest shoulders bear a heavier burden to help the poorest. It will be that principle that will guide my thinking on taxation.
"I am also committed to the proposals by Ed Milliband for a 50p and 10p tax rate, a UK-wide bankers bonus tax and a mansion tax on the sale of properties above £2m."
'Share resources'
The third leadership contender Sarah Boyack said: "As Labour Leader I'd want to pull the country together and ensure that we have a strengthened devolution settlement.
"My priority would be that Scotland has to be no worse off, that we keep the Barnett Formula, our ability to pool and share resources. I'm on the record as having reservations on the full devolution of income tax.
"I do want to see a consensus reached so, for me, the devolution of the attendance allowance, the Work Programme and housing benefit are vital if we are to get the strengthened settlement and new resources which would be used by our councils to deliver on our social and employability aspirations and to end the bedroom tax."
Former leader Johann Lamont resigned last month, accusing Westminster colleagues of treating the party in Scotland like a "branch office".