Alex Salmond wins Spectator's politician of year award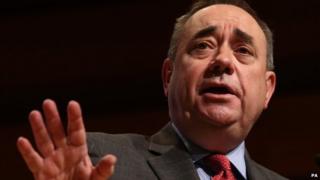 Alex Salmond has been named as the winner of the Spectator magazine's Politician of the Year award.
The former Scottish first minister previously won the award in 2011 after the SNP won a majority of the seats at the Scottish Parliament.
Mr Salmond stood down in the wake of September's independence referendum.
He said he was "honoured" to receive the award which was presented by last year's winner, Home Secretary Theresa May.
In their awards citation, the judges said: "The referendum was not an event that summed up this year in politics, it was a feeling and one history books won't record.
"It was the feeling of going to bed on the 18th of September and not knowing if the Union would still be intact when you woke up. This was the night that Britain held its breath, a moment of incredible drama created by the audacity and tenacity of our winner.'
"Almost 20 years ago, John Major's government made a peace offering to Scotland, by returning the Stone of Destiny to Edinburgh. So it would surely be appropriate that Edinburgh now returns something just as weighty to Westminster.
"So we now request, nay demand, that the Edinburgh establishment sends our winner back to his rightful place in the House of Commons."
'Momentous year'
Mr Salmond said: "I am honoured to have been selected for this award, and would like to thank the panellists and organisers.
"This has been a momentous year for Scotland, and while the 'Yes' campaign may not have won in the referendum, there is no doubt that Scotland has been changed utterly.
"With the SNP now the third biggest party in the UK with more than twice as many members as the Lib Dems, and support for the party surging in the polls, there is a determination in Scotland to ensure that real progress is delivered."
Other awards handed out by the Spectator were:
Backbencher of the Year: Sarah Wollaston
Campaigner of the Year: Jim Murphy
Peer of the Year: Charlie Falconer
Speech of the Year: Penny Mordaunt
Minister of the Year: Steve Webb
Lifetime Achievement Award: William Hague
Insurgent of the Year: Douglas Carswell
Parliamentarian of the Year: Robert Rogers