Tories brand Scottish land inheritance plans 'horrifying'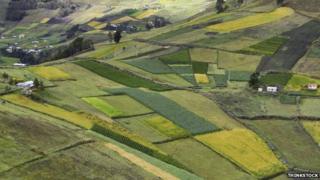 The Scottish Tories have branded plans to give children equal inheritance rights to land as "horrifying".
The measures form part of the Scottish government legislative programme outlined by Nicola Sturgeon.
Conservative MSP Alex Johnstone said the proposals could force the breaking up of estates and small farms.
But Rural Affairs Secretary Richard Lochhead said they were about extending equal rights and that families would come to their own arrangements.
Currently, there is nothing to stop a landowner passing his or her land to a firstborn son.
Mr Lochhead said the government would be reviewing the law on succession and that a consultation would take place next year.
'Threat to farms'
Speaking to BBC Scotland's Sunday Politics Scotland programme, Mr Johnstone said: "I think it's a horrifying prospect that the Scottish government are going to intervene in this way.
"To a certain extent they are playing to the gallery at this particular stage in Scottish politics."
Mr Johnstone said his family owns 250 acres of agricultural land farmed by his son, who also works full-time.
"The prospect is, in subsequent generations, that relatively small parcels of agricultural land will have to be split up and the chances of small family farms surviving will simply cease to exist."
'Equal rights'
Mr Lochhead dismissed Mr Johnstone's portrayal as "scaremongering" and said famers and land-owners would still be able to make their own arrangements for the future with their families.
He said: "The intent is to ensure that all children are treated equally when it comes to inheritance.
"We do have this outmoded, very outdated, law of succession, whereby children are treated equally when it comes to moveable property, but when it comes to heritable property - such as land - they are not treated equally, so it's about modernising the law."
Mr Lochhead conceded land reforms were intended to move to wider patterns of ownership.
But he added: "No doubt that was not changed previously to protect land-owning interests in Scotland perhaps, but it's really about giving children equal rights."