MSPs to consider elected conveners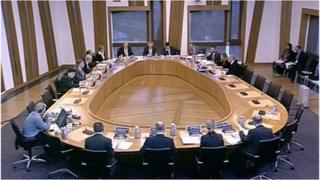 MSPs are to investigate whether the conveners of Holyrood committees should be elected by the whole parliament.
Presiding officer Tricia Marwick has already said such a move could strengthen the Scottish Parliament.
It is currently the political parties who decide who should head up committees.
The Standards, Procedures and Public Appointments Committee is to start looking at the potential benefits and disadvantages of changing the system.
MSPs on the committee will also consider if parties should continue to be allocated conveners in proportion to the overall number of seats they hold at Holyrood, with party whips then deciding which MSPs will be given the posts.
Critics of the current system have claimed that it encourages committee conveners to put the interests of their own party first, and can make them reluctant to criticise government policy.
'Renewed interest'
Stewart Stevenson, convener of the Standards, Procedures and Public Appointments Committee, said: "There can be no doubt that these proposals have come at a time of renewed interest not only in politics but also in how the Scottish Parliament operates.
"Our committee wants to hear from those with an interest in this issue, about whether and indeed how these proposals would work in practice."
Ms Marwick has already implemented a series of reforms to the way that Scottish Parliament carries out its business, and has said that changing the way committee conveners are appointed was a "natural next step" in the process.
In an interview with the Herald newspaper last year, she said: "The very act of being elected by the whole parliament gives a message to the conveners and everybody else that the conveners are there primarily to act in the interests of the parliament and not their own political party."