Rise in Scots NHS staff absent due to mental health issues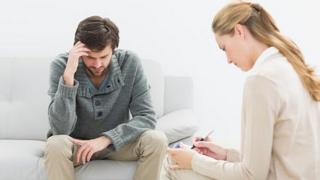 Thousands of Scottish NHS staff have been signed off work with mental health problems, figures reveal.
A total of 8,540 staff were absent in 2013/14 - up 7% on the 7,975 signed off in 2012/13.
Lib Dem health spokesman Jim Hume said the figures it obtained showed the SNP's "woeful" record on mental health.
The Scottish government said improving mental health and treating mental illness were two of its major priorities.
MSPs passed an amended government motion following a debate on mental health at Holyrood earlier.
The motion that was passed recognised the "equal importance that the NHS places on the care and treatment of mental and physical illness."
It included a Labour amendment calling for "more robust monitoring and inspection of the variation between NHS boards."
The health board figures show that in 2013/14, 788 NHS staff were signed off for stress-related reasons for lengthy periods, of between three and six months.
'Shocking figure'
Mr Hume said: "It's time the SNP government faced the facts on mental health provision in Scotland.
"SNP ministers have been in government for seven years but barely anything has been done to improve problems that will affect one in four Scots at some point in their lives.
"Today we have revealed that 16,500 NHS staff have been unable to work at some point in the past two years because of mental health problems. This is another shocking figure which sheds more light on mental health problems in Scotland.
He added: "Too many people are facing unacceptably long waits for treatment and children are being treated in inappropriate wards because of a shortage of both staff and capacity.
"I'm concerned that these figures may also show that NHS staff are bearing the brunt of SNP mismanagement of our hospitals."
Mr Hume said he would be challenging SNP ministers to set out plans for action to ensure the Scottish health service "reflects the reality of problems faced by patients".
"So far their approach to mental health provision has fallen woefully short," he said.
Scottish Labour's Jenny Marra said: "These figures show the strain our NHS is under in Scotland, with staff working in increasingly underfunded conditions."
'Feeling engaged'
A Scottish government spokeswoman said: "Improving mental health and treating mental illness are two of our major priorities.
"We have made clear commitments to improve mental health services and support for people experiencing distress and mental ill health."
She said the Scottish government had last year announced an additional £15m over the next three years for mental health services and had introduced a new Mental Health Bill to improve the operation of the Mental Health Act 2003.
"There has been a year-on-year increase of seven percentage points on the 2013 NHS staff survey that would indicate more staff are feeling engaged," she said.
"Health boards are required to comply with the Managing Health at Work PIN policy - which is currently under review - and this includes a policy on mental health. Boards are also required to ensure they have policies in place."
The spokeswoman added: "We want more people who are experiencing mental ill health to seek support.
"The Scottish government is committed to ending the stigma and discrimination sometimes experienced by people with mental health issues."