Rennie backs 'solid' Lib Dem record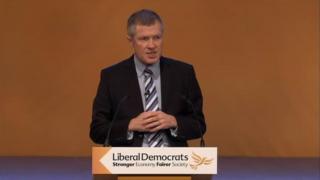 Scottish Liberal Democrat Leader Willie Rennie has set out his party's "solid record" in the UK government, despite warnings of heavy election losses.
Ahead of the May general election, he said it played a key role in getting the economy back on track as part of the Lib Dem/Conservative coalition.
Some opinion polls have suggested Mr Rennie's party could lose many of their 11 Scottish Westminster seats.
He said it was "very dangerous" to rely on "short-term" polls.
Mr Rennie's comments came in the latest of a series of pre-election interviews with Scottish party leaders on the BBC's Good Morning Scotland programme.
On Monday, SNP leader and Scottish First Minister Nicola Sturgeon said only her party could be trusted to stand up for Scotland at Westminster.
'Exceptional circumstances'
Mr Rennie argued that the economic recovery strategies favoured by the SNP and Labour would have seen the country plunged further into debt by borrowing more, rather than cutting the spending deficit, which currently stands at more than £1tn.
Despite previous Lib Dem promises to reduce the spending gap, Mr Rennie said: "We have faced the biggest this country has faced for 100 years. These are exceptional circumstances.
"I think in those exceptional circumstances we have performed extremely well - providing that security against the real strong headwinds that the British economy has faced, and in those circumstances we've created 170,000 extra jobs in Scotland."
Mr Rennie also said his party had cut taxes, increased pensions and extended childcare, while delivering a "home rule" Scottish Parliament with new devolved responsibility providing £20bn of tax and £2.5bn of welfare powers.
Electoral challenge
But opponents of the Lib Dems have suggested they may pay a heavy price at the polls for going into coalition with the Tories.
Scottish Liberal Democrats with key UK government jobs, including Chief Secretary to the Treasury Danny Alexander, Scottish Secretary Alistair Carmichael and Jo Swinson, the employment minister, are defending their seats in the face of a strong challenge from rival parties.
And former SNP leader Alex Salmond is standing in the Lib Dem-held seat of Gordon, after incumbent Sir Malcolm Bruce decided to step down.
Asked how many seats his party expected to win, Mr Rennie said: "I rarely predict elections, because it's a fools game."
He added: "Repeatedly, we've been written off almost at every single election, and we always come back very strongly, because we've got a good, solid track record."