Ruth Davidson: Salmond as deputy PM 'scary'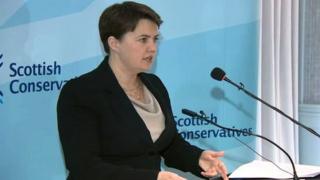 The Scottish Conservative leader has said the idea that Alex Salmond might be the UK's next deputy prime minister "scares the bejesus out of me".
Ruth Davidson said the prospect of a minority Labour government propped up by the SNP after the general election in May would be unworkable.
Mr Salmond said he was not seeking to become a member of the next government.
Ms Davidson has also set a target to increase her party's share of the vote in Scotland, where it has just one MP.
She said the first-past-the-post system had held the Scottish Tories back.
In the latest of a series of pre-election interviews with Scottish party leaders on the BBC's Good Morning Scotland programme, Ms Davidson said SNP leader Nicola Sturgeon and Labour leader Ed Miliband were "already halfway down the aisle" to forming a new government.
Ms Sturgeon has said she is "not instinctively that keen on coalitions", but said the SNP could be in a position to "make sure that Labour didn't get away with taking Scotland for granted".
'Weak leader'
The SNP is hoping for a substantial increase in the number of Westminster seats it holds, with former SNP leader and Scottish first minister Alex Salmond among those who are standing.
Ms Davidson said: "Ed Miliband is weak - he's a weak leader that can't control his own party.
---
Party pitches
Scotland's party leaders have been setting out their UK election prospects in a series of BBC interviews.
Scottish Labour leader Jim Murphy will also be quizzed on his party's election prospects this week on BBC Radio Scotland.
---
"The idea of Ed Miliband as prime minister - with (deputy SNP leader) Stewart Hosie, who knows, Alex Salmond as deputy prime minister - scares the bejesus out of me.
"And do you know why? Because I don't think Ed Miliband would stand up to the concessions that Alex Salmond would wring from him."
Mr Salmond told the BBC he was not seeking to become a minister in the next UK government.
He said: "I have no ambitions in that direction," but added: "If it was going to scare the Tories it might be worth doing."
Mr Salmond said people were looking forward to the SNP having "substantial influence" at Westminster after the general election, but said it was "unlikely" his party would enter a formal coalition.
The SNP has already ruled out any alliance - formal or informal - with the Conservatives.
Ms Davidson argued that the only way to keep Mr Miliband out of Downing Street and secure the future of the Union was to vote Conservative.
The Scottish Tory leader, whose party is often described by critics as a "toxic brand" in Scotland, also said she was "working toward" winning more Westminster seats north of the border.
She added: "One of our great problems in Scotland is also one of our great strengths in that we have quite an even spread in many parts of Scotland, rather than concentration.
"First-past-the-post has always held us back."