West Dunbartonshire Council considers cold school meals on Fridays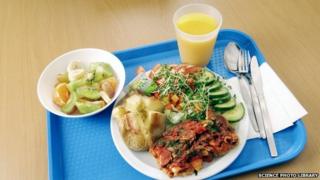 West Dunbartonshire Council is to consider a proposal to scrap hot school dinners on Fridays to help save money.
The move, which could save £258,000 annually, would see pupils offered a sandwich with salad and fruit instead.
The proposal, which would also offer one hot meal choice on other days, is among savings options that councillors will consider next month.
On Monday, free school meal entitlement was extended to all P1-P3 pupils in Scotland regardless of parental income.
Labour-run West Dunbartonshire Council is looking to make £17m of savings over the next three years.
The suggestion by officials is that, on Fridays, children would be offered a sandwich meal which would include salad and fruit.
This would save money as catering staff would only be working four days a week instead of five.
"Inadequate" settlement
On other days, children would no longer be offered a choice of hot meal - just one would be available to them.
The meal would include salad, fresh fruit, bread and water.
The council also proposes replacing milk at lunchtime with water four days a week and diluting juice on the other day.
It would also end breakfast clubs in primary schools.
West Dunbartonshire Council said it currently exceeded its statutory requirements on school meals.
A spokesman said the council was forced to look at these options due to the "inadequate budget settlement" made by the Scottish government.
He said the council had called on the government to provide further funds and allow it to raise council tax charges.
The Scottish government expects to spend £95m over the next two years helping councils provide free meals for all children in P1, 2 and 3.
The initiative was launched by First Minister Nicola Sturgeon at her old primary school in North Ayrshire on Monday.
Although councils have been given extra money by the government to extend free meals, the money has not been ring-fenced so each one can decide just how much to actually spend.
The policy is supported by unions, anti-poverty campaigners and the Church of Scotland, but some sceptics have questioned whether extending free meals to all children is really the best use of resources.
Classroom time
Labour's education spokesman Iain Gray said on Monday that while extending free meals was "no bad thing", better off families would be celebrating the saving.
Of the £17m that West Dunbartonshire Council aims to save by 2018, about £9m will be introduced in the next financial year which starts this April. The rest would follow later.
Other options for savings in the education budget, echo proposals made by other local authorities.
One is to reduce the amount of time primary school pupils spend in class each week from 25 hours to 22.5 hours, saving around £1m annually.
Another would see some secondary pupils study different subjects on different school campuses, saving £80,000.
A public consultation on the savings options runs until the end of next week.