Call for ban on electric shock collars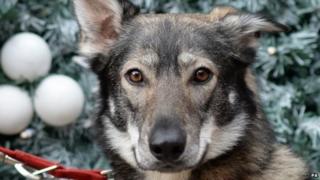 The Scottish government is being urged to ban electric shock collars for dogs and cats.
The devices are operated by remote control and deliver a shock to pets as punishment for bad behaviour.
Animal welfare charities say the collars should be banned because they cause unnecessary suffering and are ineffective and unnecessary.
MSP Christine Grahame led a member's debate at Holyrood entitled "A Shocking Way to Treat a Dog".
The SNP politician told BBC Scotland: "I've had one put on my wrist and it was extremely painful and not the way to train an animal."
Animal protection charity OneKind is opposed to the use of e-collars along with a number of other animal welfare organisations including the Kennel Club, the Scottish Kennel Club, the Scottish SPCA, the RSPCA, the Dogs Trust, Guide Dogs for the Blind and the Blue Cross.
Welsh ban
Libby Anderson, policy director at OneKind, said: "Studies have found negative welfare impacts on dogs trained using electric shock collars, even when used by a trained professional, and we cannot see any place for negative and aversive methods when positive, reward-based training is available."
The Welsh Assembly banned the use of e-collars in 2010 and imposed a penalty of a fine of up to £20,000 or up to six months imprisonment.
Ms Anderson added: "The Welsh Assembly has shown a positive and responsible attitude towards animal welfare in banning e-collars and we would encourage a similar drive towards this in Scotland.
"Dogs and people need to be kept safe and must be able to live harmoniously in their shared environment, so that the many benefits of canine companionship can be enjoyed by all.
"Measures such as microchipping, positive training programmes and a general dog licence can all play their part in improving standards of care, welfare and safety."
The Scottish government carried out a consultation in 2007 to gather the views of animal experts and organisations.