Inquiry into Scottish 'education gap'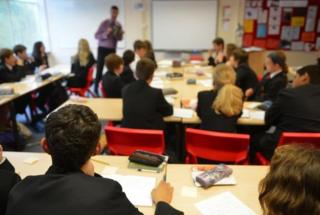 An inquiry is to look into whether enough is being done to cut the gap in educational attainment between Scotland's poorest and richest pupils.
The Scottish Parliament's cross-party education committee will hear the views of teachers, parents and others as part of its year-long investigation.
It came amid concerns that too many children from poorer families leave school early without qualifications.
Educational attainment is one of the Scottish government's top priorities.
Recent figures suggested a large difference between the average attainment of pupils in the most and least deprived areas, with 28% of children from poorer families performing well in numeracy, compared with 56% of those from advantaged backgrounds.
Scottish Education Secretary Angela Constance has made raising attainment in schools her "number one priority", and MSPs on the education committee want to know how effective government policy is.
'Firm evidence'
Committee convener, SNP MSP Stewart Maxwell, said: "We want to be clear about the progress being made and what still needs to change.
"The committee will be looking for firm evidence that significant and sustainable improvement is being delivered.
"We have committed to looking at this issue over the course of 2015. We are determined to hold the Scottish government and other bodies to account for their performance on an issue of fundamental importance to pupils and parents across the country."
The committee's inquiry will include looking at:
How parents and guardians can work with schools to raise pupil performance
Whether the voluntary and private sectors can do more to boost the achievements of school pupils.
The committee plans to hold a separate inquiry into the attainment of pupils with physical disabilities.