Murphy: Scrapping Trident 'wrong'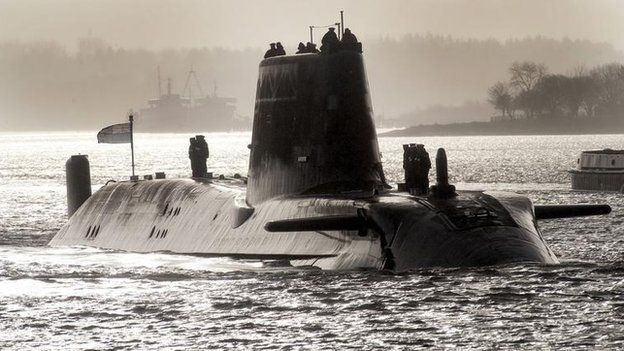 The Scottish Labour leader has said he believes it would be "wrong" for the party to advocate scrapping Trident.
Jim Murphy said the future of the UK's nuclear deterrent was "too important" to be included in any "horse-trading" deal after the general election.
Scottish First Minister Nicola Sturgeon had earlier called on Labour to rethink its support for nuclear weapons.
She has made scrapping Trident one of her conditions for offering SNP support to a potential Labour government.
The SNP currently has six MPs in the House of Commons, but opinion polls have suggested the party is on course to substantially increase that number at the expense of Labour in May's election.
This has led to speculation that the party could hold the balance of power at Westminster, with Ms Sturgeon having already set out the scrapping of Trident among her list of demands in return for any kind of deal with Labour.
She has ruled out supporting a Conservative government under any circumstances.
MPs are due to decide next year whether to authorise the construction of new nuclear-armed submarines which would replace the current generation of four subs when they end their working lives in the late 2020s.
The SNP, Plaid Cymru and the Greens want to see Trident - which is based at Faslane on the Clyde - scrapped. The Conservative Party is committed to a like-for-like replacement; Labour says it supports a continuous at-sea deterrent and the Liberal Democrats are keen to look at cheaper alternatives to the Trident system.
A call to scrap the proposed replacement for Trident was rejected by MPs by a margin of 364 to 35 last week.
Speaking to the BBC's Andrew Marr Show, Ms Sturgeon reiterated her belief that renewing Trident was wrong for both moral and financial reasons, and said the £100bn saved from scrapping it should instead be spent on health and education.
When it was put to her that it would not be possible to get the ending of Trident through the House of Commons, Ms Sturgeon replied: "You might, and I hope this would be the case that Labour would take the opportunity of taking a different view and a different decision on Trident.
"I know that there are many Labour supporters, traditional Labour supporters, in Scotland who don't support Trident and who would like to see Labour take the sensible decision on Trident."
Ms Sturgeon also dismissed suggestions that Scotland could declare independence without a referendum.
And she confirmed that SNP MPs will vote on English issues that have a knock-on impact on the Barnett Formula - the block grant given to the Scottish government by Westminster.
Speaking to the BBC's Sunday Politics programme later, Mr Murphy acknowledged that advocating the scrapping of Trident would differentiate Scottish Labour from the London party, but said such a move "would be wrong".
He said the future of the nuclear deterrent should not be decided by "playing footsie about possible coalitions with other parties and all that sort of stuff".
Mr Murphy added: "The nuclear deterrent is too important to get involved in that sort of horsetrading on the nation's safety. I want a world free of nuclear weapons but you should negotiate that away with other nuclear powers, not negotiate it away for party political gain."
When asked whether his view was that Trident was therefore non-negotiable with the SNP, Mr Murphy replied: "I am not looking for negotiations at all. I don't think we'll need negotiations.
"We are not getting involved in a debate on negotiations about what happens if we lose the election. We are determined to win."
Mr Murphy hinted that he had not ruled out standing down as an MP at the general election to focus on the fight for Holyrood.
He confirmed that he is currently Labour's candidate to retain his East Renfrewshire seat in Westminster, but said he will tell his constituents "if the situation changes" rather than announce it through the media.
Mr Murphy has also outlined a plan that he said would see Scotland's railways returned to the public sector in a new non-profit ScotRail franchise if Labour wins the next Holyrood election, the latest in a series of policy announcements.
A new "People's ScotRail" would provide cheaper rail services with financial returns ploughed back into the Scottish public purse rather than going to foreign companies or shareholders, he said.
The ScotRail franchise was awarded to Dutch government-owned firm Abellio in October.
A spokesman for Scottish Transport Minister Derek Mackay said: "Non-profit organisations can already bid to run Scotland's railways.
"Indeed, the Scottish government invited such bids for the new franchise but none came forward."