Exam appeal changes favour private school pupils, says Labour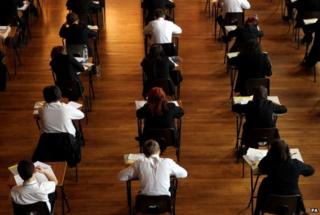 Changes to Scotland's school exam appeal system favour privately-educated youngsters over state school pupils, Labour has claimed.
State schools and local authorities now pay administrative charges of up to £30 for appeals which fail.
But Labour said private schools were giving parents the option to pay the fee themselves.
The charges were brought in to help deter schools from putting in purely speculative appeals.
There has since been a large drop in the number of appeals to the Scottish exams agency.
Deputy Scottish Labour leader Kezia Dugdale said Higher results could be the difference between getting a place at university or losing out, adding: "For disadvantaged kids, in particular, this can be a deal breaker."
School potential
Speaking during first minister's questions in the Scottish Parliament, Ms Dugdale said: "Parents of private-school pupils can buy their kids a second chance, parents of private-school pupils can put their hands in their pocket to help their kids, but state school pupils can't."
However, First Minister Nicola Sturgeon said that in 2014 there was a record number of Higher exam passes in Scotland, almost 4,000 more compared to the previous year.
And she told MSPs that 18-year-olds from the poorest backgrounds were now more likely to be accepted to university.
The first minister said: "We have put in place a system that is right and proportionate in terms of appeals to give young people the best opportunity of fulfilling their potential at school."
The appeals process allows schools and colleges to challenge borderline results.
---
Analysis
Jamie McIvor, BBC Scotland education correspondent
Ultimately what really matters is the success rate for appeals.
Is there hard evidence that appeals which could have been successful from state school youngsters aren't going ahead because of money?
Or might independent schools simply be more likely to risk paying as they're able to recoup the charges from parents?
Of the total of 8,400 appeals from all schools, just over 2,000 were successful. But there is no breakdown of the success rate between state and independent schools.
---
If an appeal fails, the school is charged a fee - around £10 for adding up the marks and £30 for re-marking a paper.
The Scottish Council of Independent Schools denied parents were being given the chance to pay for appeals which the schools themselves did not want to make.
A spokesman said decisions on whether to appeal were made by professionals in conjunction with parents and students.
In some cases, the charges might be met indirectly through regular school fees. In other cases, the parents of all the students whose appeals were unsuccessful may later have to pay the cost.
The general secretary of the largest teaching union the EIS, Larry Flanagan, said he had not "picked up any real sense" that students at state schools were being denied appeals on financial grounds.