SSTA calls for delay to Advanced Highers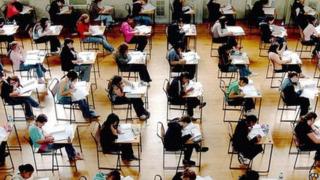 The Scottish government is facing calls to delay changes to Advanced Highers.
They are due to be revamped later this year in the latest stage of the ongoing shake-up of qualifications.
The SSTA union said the current version of the qualification should also be on offer next year and accused the Scottish government of a lack of respect for teachers' judgement.
But the government said it had not yet heard a "compelling case" to do this.
The Advanced Highers are studied by a relatively small number of young people, normally in sixth year. The work is broadly equivalent to the first year of a university course.
The qualification can often help teenagers secure a place on the most competitive university courses.
The planned changes follow on from a revamp of the regular Highers.
Most fifth year students are studying for new look Highers this year but in some subjects - especially science - many schools have delayed their introduction until next year.
The SSTA argued that schools should also be able to choose between the current version of the Advanced Higher and the new one for one year.
Part of their thinking was that students who had studied for the old Higher could be better off studying for the old Advanced Higher too.
Robert Macmillan, SSTA acting president, said: "We hope that the cabinet secretary will reconsider her decision in the light of these comments and present circumstances, and allow schools to delay implementation of the new Advanced Higher by one year if they wish, as many opted to for the new Higher.
"This practical measure would demonstrate to secondary teachers that the government is genuinely listening to their concerns and will show the public that the educational needs of young people are put first."
General secretary Seamus Searson added: "Throughout the implementation of Curriculum for Excellence, the SSTA has attempted to signal real concerns about progress.
"We have been careful about appearing alarmist and at all times wished to contribute positively to its successful implementation.
"There is still time to achieve this and it is for that reason we insist that that the cabinet secretary listens to the voice of the professionals in our schools".
He added: "We continue to be alarmed by the lack of respect for teachers' professional judgement shown by the Cabinet Secretary Angela Constance in refusing to sanction a dual running of the Advanced Highers in 2015/2016.
"The overriding concern of SSTA members is this will adversely impact on our young people".
The Scottish government has yet to respond to the SSTA's statement.