Final arguments on Assisted Suicide Scotland bill heard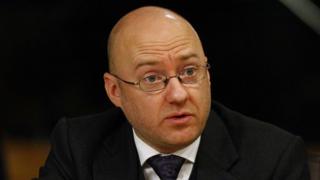 The politician championing the Assisted Suicide Scotland bill said it is fit for purpose and he did not intend to make any "radical changes".
But, during the final day of evidence, Green MSP Patrick Harvie told Holyrood's health committee changes could be made to strengthen the bill.
Supporters said the plan had widespread public backing, but critics have argued a change in the law would be unethical.
The Scottish government does not support a change in the law.
The Assisted Suicide Bill would give people whose lives have become intolerable through a progressive degenerative condition or terminal illness the right to seek the help of a doctor to help end their lives.
The legislation, which is in the committee stage of its passage through parliament, says the final act must be carried out by the person seeking to end their own life.
Public mood
Legal and medical experts have expressed concern about how the legislation would work in practice.
MSP Richard Lyle asked Mr Harvie how many amendments the Bill would require to address the "flaws and concerns" identified.
Mr Harvie said he was willing to consider changes suggested by other members that did not undermine the main principle of the bill, such as reporting procedures, the final 14 day limit and eligibility.
But he said: "I would argue the Bill is fit for purpose.
"I don't think there have been many major pieces of legislation that the Scottish Parliament has passed that haven't seen some amendment."
The Assisted Suicide Bill, which contains a series of safeguards which aim to prevent abuse of the legislation, was brought forward by the late independent MSP Margo MacDonald, who died last year after a long battle with Parkinson's disease.
It is now being championed by Mr Harvie, who said he gave a commitment to Ms MacDonald to present this bill as best he could to parliament and therefore he would not be bringing forward any "radical changes" to the legislation.
Mr Harvie told MSPs there was a compelling case for a change in the law.
He said there has been a shift of power towards patients and decision making was now more in the hands of individuals, in a "supported and fully informed way".
He told the committee opinion polls had shown the "overwhelming public mood" is that people who help end the suffering of a loved one, at the request of said loved one, should not be prosecuted.
---
Assisted suicide - the legal position
It is not illegal to attempt suicide in Scotland, but helping someone take their own life could lead to prosecution.
In England and Wales, the Suicide Act 1961 makes it an offence to encourage or assist a suicide or a suicide attempt, which is almost identical to the situation in Northern Ireland.
The Director of Public Prosecutions has to approve any assisted suicide court action in England, Wales and Northern Ireland.
In 2010, Keir Starmer, then the DPP, issued guidance that made it clear that family or friends who travelled with a loved one to the Swiss suicide group Dignitas would not risk prosecution.
The guidelines were the result of a case brought by Debbie Purdy, a terminally ill woman, who in 2009 won a legal ruling requiring the DPP to set out whether her husband would be committing an offence if he accompanied her to Dignitas to end her life.
Scotland's prosecution service, the Crown Office, has issued no such guidance.
Assisted suicide is legal in Luxembourg, the Netherlands and Belgium as well as Switzerland.
---
---
Assisted Suicide Bill - key measures
Only those who are terminally ill or who are suffering from deteriorating progressive conditions which make life intolerable can seek assisted suicide
An "early warning" aspect, whereby anyone over the age of 16 can inform their GP of their support in principle for assisted suicide
The indication can be noted in the person's medical records, but must be stated at least seven days before they can formally request help to end their life
Any requests to GPs must be backed up by a second professional opinion, and followed by a 14-day "cooling off" period
The process is then repeated again with a second request, after which one of the doctors concerned supplies a licensed facilitator with a prescription to enable assisted suicide to take place
The facilitator, or "friend at the end", has no relationship with the patient and is given the task of collecting the prescription and agreeing the process of assisted suicide
If the prescription is not used within 14 days, it must be returned to the chemist
---
Those opposed to legal assisted suicide, including the campaign group Care Not Killing, have described the bill as "unnecessary, unethical and uncontrollable".
A spokesperson for the organisation, said: "We do not want the state-sanctioned killing of old, ill and disabled people of all impairment.
"We want support for people to live - not to die."
The health committee, was also due to hear from Andrew Mylne, Head of Non-Government Bills Unit, Louise Miller, senior solicitor, Office of the Solicitor to the Scottish Parliament and Amanda Ward, adviser to Patrick Harvie.
It is expected to report to parliament in the spring.
MSPs will then get the opportunity to pass or reject the bill.
In 2010, a similar piece of legislation was defeated by 85 votes to 16, with two abstentions, by MSPs who were allowed a free vote on the proposals, rather than on party lines.