Dumfries and Galloway Council agrees to teacher numbers deal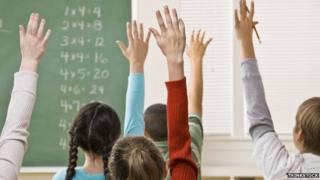 Dumfries and Galloway Council has agreed to the comply with the terms of the Scottish government's budget and maintain teachers numbers.
Finance Secretary John Swinney said two weeks ago that a failure to reach a national deal on teacher numbers meant each council must agree or lose cash.
The Labour-led Dumfries and Galloway administration has now said it would take the Budget deal.
Opposition parties accused it of an "embarrassing climbdown".
In his budget statement to the Scottish Parliament on 4 February, Mr Swinney challenged local authorities over teacher numbers, threatening to withhold extra funding if they were not prepared "to sign up to a clear commitment to protect teacher numbers".
Mr Swinney said any councils that did not agree would not get their share of £10m of extra funding and also risked having money from the previous pot of £41m for teacher support clawed back.
National average
Dumfries and Galloway said the council had been allocated £303,000 from the £10m but it would cost a further £606,000 to maintain teacher numbers at the current level.
Council leader Ronnie Nicholson said: "Our council has one of the best teacher pupil ratios in Scotland, far better than both the national average and the Scottish government's previous target.
"It's frustrating that the failure at a national level to reach agreement on teacher numbers means the Scottish government's position is now no longer a national target of 13.5 but simply that teacher numbers should be frozen at current levels.
"That means as a council we are being penalised for working hard over the years to maintain teacher numbers."
Mr Nicholson said additional savings would now be needed but the recent council budget did increase funding for education to £132m.
SNP councillor Andy Ferguson said: "This is an embarrassing climbdown for the Labour administration today and, to make it worse for them, it could and should have been avoided if Ronnie Nicholson had backed our position on budget day.
"It is another total vindication of the position we took then and a sad indictment of Labour's attitude towards other views.
"The public - be that pupils, parents or our teaching staff - will welcome this intervention by the Scottish government to protect teacher numbers in our schools."