Scottish MP David Mundell warns against Labour/SNP post-election pact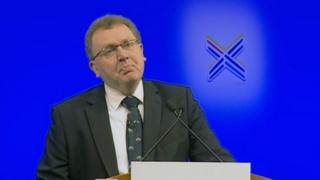 Scotland's only Conservative MP David Mundell has told his party conference that a post-election Labour/SNP power deal would be a disaster for the UK.
The Dumfriesshire MP said Labour's Ed Miliband and Ed Balls were a real and present danger.
Mr Mundell went on to warn that the SNP's former leader Alex Salmond could end up being the "self-styled puppet master" pulling the strings.
Voters throughout the UK will choose their MPs on 7 May.
Polls have indicated that Labour would be the biggest party and the SNP will increase its numbers by a big margin.
That has led to speculation that Labour and the SNP will come to a deal at Westminster.
Mr Mundell said: "Let's face it. Labour, and the two Eds, are a real and present danger who threaten all this country has achieved. They would plunge us back into the dark days. Our worst nightmare.
"Or so we thought - just when you thought it was safe to return to the polling booth - enter stage left Alex Salmond, the self-styled puppet master pulling both Nicola and Ed's strings. And I say stage left, because the dangerous economics of socialism are shared by Ed Miliband and Alex Salmond."
The politician added: "He [Alex Salmond] and his party of separatists want fiscal autonomy for Scotland.
"That would have meant a multi-billion pound black hole in our nation's finances.
"It would mean fewer nurses, fewer doctors, fewer teachers and social workers and a crippling debt. The party who would break up Britain would bankrupt Britain instead. Their poverty of ambition would mean an impoverished country unable to pay its way.
"And now Alex and Nicola are desperate to prop up Ed Miliband."