Headteachers in Scotland face new mandatory test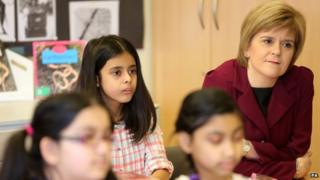 All new headteachers will need to study for a specially-designed qualification, the Scottish government has announced.
The new masters qualification for headship will be introduced this year and become mandatory for new headteachers in 2018.
First Minister Nicola Sturgeon said strong leadership in schools could play a big part helping to raise attainment by pupils.
She was speaking during a visit to Blue Gate Fields junior in Tower Hamlets.
Earlier, she had said Scotland could learn lessons on how to tackle the attainment gap from London schools.
The General Teaching Council of Scotland (GTCS) welcomed the plan.
From August 2015, teachers will be able to complete the new qualification, which has been designed by the Scottish College for Educational Leadership.
The first minister also announced a further £1m to create new opportunities for teachers to learn at masters level.
'Strong leadership'
The Scottish government said this would build on the £3m already invested in masters level learning over the last three years, involving about 2,000 teachers.
Ms Sturgeon said: "Strong leadership and the best teachers are a fundamental part of improving attainment and achievement for children and young people.
"Last year, we established the independent Scottish College for Educational Leadership which is working to develop the new masters qualification for headship in Scotland.
"Teachers will be able to take the qualification from August this year and we will make it a legal requirement that from the end of the four year Attainment Challenge period all new headteachers must hold this masters qualification."
Ken Cunningham, general secretary of School Leaders Scotland, said: "School Leaders Scotland are pleased to see, in the context of raising attainment and closing the gap, the first minister's commitment to supporting the key pillars of enhanced teacher professionalism and strong school leadership.
"The reaffirming of enhanced staff qualifications at all levels is to be welcomed."
Ms Sturgeon's announcement was made at a London school which is reported to have achieved high standards in recent years.
Blue Gate Fields is ranked in the top 20% of English schools for attainment in grammar and reading and in the top 40% for maths.
Ms Sturgeon said the school had delivered "spectacular results" after taking part in the London Challenge initiative.
It was launched in 2003 by the then Labour government with the aim of giving young people a better education.
The scheme was the inspiration behind the Scottish government's £100m Attainment Scotland Fund.
Scottish Labour leader Jim Murphy has also been focusing on attainment in schools saying more money should be earmarked to tackle educational inequality.
He wants a chief education officer to be appointed in all 32 Scottish councils.
'Better opportunity'
Mr Murphy said: "When Scotland's families flourish, Scotland flourishes. But under the SNP, working class families are being let down, and find themselves almost locked out of the opportunity to get on in life through education.
"Last week in a speech to academics and economists I said that inequality is a moral scandal that is holding the whole country back from a better future.
"We build a better, more prosperous Scotland by building a fairer, more equal Scotland.
"The key to a better future for everyone is better opportunity for working class families in Scotland."
Nicola Sturgeon's announcement has been welcomed by the Scottish Conservatives.
The party's young people spokeswoman Liz Smith said: "This is a very welcome announcement which is designed to enhance leadership in our schools.
"Having seen what happens in other countries, the Scottish Conservatives have long argued for the need for better professional support amongst heads and their staff - something that will undoubtedly raise standards across the board.
"The combination of this new Masters programme and compulsory GTCS registration for all teachers will deliver the increased professionalism which parents have a right to expect."