Council tax frozen in Scotland for eighth year in row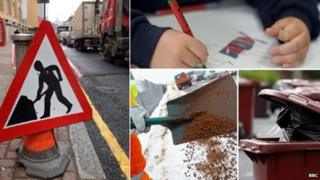 Households across Scotland will see a freeze in their council tax payments for the eighth year in a row, it has been confirmed.
All 32 local authorities will keep their 2015/16 council tax at the current levels, Deputy First Minister John Swinney announced.
Ministers say the freeze is a real help to family budgets.
But some councils say they have no choice as they would otherwise lose some of their government money.
Mr Swinney said: "This is the eighth successive year that we have worked with our local government partners to maintain council tax at 2007/08 levels, which is good news for communities and households who will benefit from the savings this brings in a challenging economic climate - savings that amount to around £1,200 for the average Band D household."
'Real benefits'
He added: "This partnership approach with local government is delivering real benefits for the people of Scotland in the face of the biggest reduction in public spending imposed by Westminster on any Scottish government.
"The Scottish government is focused on securing economic growth, tackling inequality and protecting our public services and it's great news for Scottish households who will be spared a raise in council tax for the eighth consecutive year."
The Scottish Government has funded the freeze by providing an extra £70m each year, included in the local government finance settlement of more than £10.85bn for 2015/16.
Mr Swinney, who is also the finance secretary, will bring an order to parliament next month to add shares of the £70m to individual local authority settlement totals for next year.
The Scottish Government announced last week the appointment of members to a commission tasked with looking at "fairer" systems of local taxation.