The art of the political memoir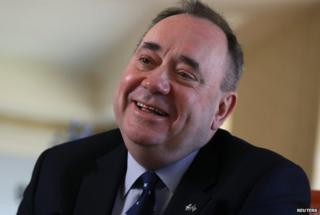 Since stepping down as Scotland's first minister, Alex Salmond hasn't exactly ridden off into the sunset.
Among the many irons in his fire, the former SNP leader is now about to join the long list of politicians to have penned personal memoirs.
Inspired by a line in his resignation speech, "The Dream Shall Never Die", Mr Salmond's book of the same name will tell his story of the campaign for Scottish independence.
But what is the enduring appeal of such works and why do we read them?
Political biographies come in many forms.
The diaries of Conservative Alan Clark are among the most infamous.
First published in 1993, they contained candid descriptions of senior colleagues and inside gossip about the downfall of Margaret Thatcher, at a time when his party was still in power.
Sexy secrets
Then there's those much written-about politicians who have courted controversy and want to tell the story on their own terms, as former Labour PM Tony Blair did with his memoirs in 2010.
So what's the appeal of these books?
Hugh Andrew, of Birlinn, a publishing house which has released a number of political books, said: "For many politicians, it's their last big payday, it's a chance to put on paper the truths they've been dying to tell us all these years."
But he added: "Relatively few of them are enormous commercial successes, though some - particularly Denis Healy's - was a huge success, but that was a very good book written by an author with a huge amount of hinterland.
"Many people feel that just because they've been in politics they've something interesting to say, but actually what matters is the background and depth and interest of your life beyond politics as much as politics itself."
In short, salacious gossip and sexy secrets have always sold books - even more so when they come from the corridors of power.
Take, for example, Peter Mandelson's 2010 autobiography giving the inside story of his time helming New Labour, which was criticised by colleagues who said he'd damaged the party.
And the bombshell that ex-Tory PM John Major had once had an affair with the former Conservative minister Edwina Currie came out in her diaries, published in 2002.
The liaison began in 1984 when Mrs Currie was a backbencher and Mr Major a whip in Thatcher's government.
So what can we expect in Alex Salmond's book when it hits the shelves, and why is it being published now?
Journalist and author David Torrance, who wrote an unauthorised Salmond biography, said: "In the publishing industry you have to strike while the iron is hot to get a good advance and serialisation.
"There's also a determination to set the terms of your legacy and how you'll be remembered - in Salmond's case it's quite specifically the referendum, an important moment in his career."
'On message'
He added: "Inevitably, these books end up being '100,000 words on why I was right and all my opponents were wrong.'
"Political memoirs are not a very reliable first draft of history, because they're seen from an intensely personal perspective.
"What people expect from that kind of thing is 'Salmond unplugged' and a more honest assessment of things.
"Whether or not he's capable of doing that I think is a moot point. Alex Salmond, as politicians go is not very introspective - he's always on message."
Mr Torrance, who's just put the finishing touches to a biography of Mr Salmond's successor, Nicola Sturgeon, says there's another potential pitfall.
"As a biographer, there's this huge expectation that you're going to expose some salacious details, but the truth is that modern politicians are quite well behaved and rather boring in that respect."
There is another category of political biography - those who publish their memoirs before their careers are over.
Hilary Clinton's recent book was widely seen as the next step in her campaign to become US president.
And, ahead of May's UK election, UKIP leader Nigel Farage's story is about to hit the shelves, promising tales of "near-death experiences" and "controversial kippers".
Alex Salmond is also looking to make his big comeback, as an MP in the next Westminster parliament.
On that point, he'll be very much hoping his book is merely the next chapter, rather than the epilogue.