MSPs reject Flower of Scotland national anthem call by Aberdeen student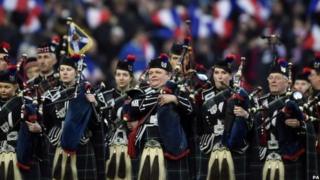 A petition calling for folk song Flower of Scotland to be made the country's official anthem has been rejected by MSPs.
Holyrood's Public Petition Committee rejected the request which had been made by Aberdeen University student Chris Cromar.
Flower of Scotland has been widely recognised as Scotland's unofficial national anthem.
It is used at Commonwealth Games events and football and rugby matches.
The song, which recalls Scotland's medieval wars of independence, was penned in 1968 by Scottish folk group, The Corries.
Ahead of making a decision on the petition, the committee heard the views of its members.
Conservative MSP Jackson Carlaw said the song had been both "loved and loathed" by sections of Scottish society.
SNP MSP Angus MacDonald "reluctantly" agreed, insisting "the jury is still out" on the best anthem for Scotland.
Other unofficial Scottish national anthems include;
Scotland the Brave, Highland Cathedral
Scots Wha Hae
And A Man's a Man
Mr Carlaw acknowledged that he had "something of a track record of commenting on the number of petitions we receive encouraging us 'adopt a national this, that or the next thing'.
He added: "My understanding is that a lack of enthusiasm was expressed by the Scottish government on moving forward at this time.
"This petition has sparked a limited national debate on the issue and it seems a little bit like Marmite in that this particular anthem is either loved or loathed.
"I think at this stage it would be inadvisable for a committee of MSPs to embrace any anthem."
'Jury still out'
In a statement, the Scottish government said: "Scottish ministers believe that consideration of whether Scotland should officially adopt a national anthem, and if so what that might be, should not be led by the Scottish government or by any single political party.
"We, therefore, have no current plans in this regard."
Mr MacDonald said: "I think consensus is breaking out on this one, clearly from the submissions that we have had from a number of contributors the jury is still out on what is the best national anthem for Scotland.
"Given the view of the Scottish government, and given that there is still a considerable amount of debate out there as to what the national anthem should be, I think we should perhaps close the petition, reluctantly, and allow the debate to continue out there."