Scottish Lib Dem conference: Bank fines used to build disabled veterans' homes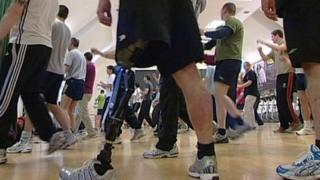 Cash from fines levied on banks will provide housing for disabled veterans in Scotland, the chief secretary to the Treasury has announced.
Danny Alexander said Edinburgh-based Houses for Heroes would benefit from the £550,000 fund.
He made the announcement at the Scottish Liberal Democrat conference in Aberdeen.
The money came from fines on banks following their manipulation of the Libor interest rates.
Mr Alexander said: "We've taken around £450m from bankers who broke the rules and there can be no better use of this money than to support those who have served our country."
He believed the money would pay for 17 new homes on seven housing developments across Scotland.
Mr Alexander added: "These homes will help provide a much-needed resource: there are nearly 500 veterans on Veterans Scotland's housing waiting list and around 400 of these are disabled."