Election 2015: Polling boss examines election clues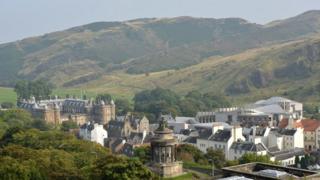 In the second part of his organisation's poll for BBC Scotland, director of Ipsos Mori Scotland Mark Diffley looks for clues on which issues will influence voters in the general election.
---
Part two of our poll for BBC Scotland covers a wide range of key issues - from the powers of the Scottish Parliament to immigration and defence spending.
A number of headlines stand out. First, Scots appear to place a greater emphasis on embedding and extending powers at Holyrood parliament than on holding a second independence referendum.
When asked to give a score of between 1 and 10, where 10 is an important priority and should be done quickly, each of the four issues relating to additional powers for the Scottish Parliament achieved high average scores.
Giving Holyrood power to increase benefits and pensions achieved an average score of 7.3 out of 10, a little higher than devolving full control of welfare benefits (7.1), full control of income tax (6.8) and full control of all policy other than defence and foreign affairs (6.5).
Interestingly, analysis shows that, for each of these issues, support is higher among groups who are more likely to have voted 'Yes' in last year's referendum.
For example, the issue of devolving all policy except defence and foreign affairs is a higher priority for young voters (average score of 7.6 among 18-24 year-olds, compared with 6.2 among those aged 55 and over) and those living in areas of higher deprivation (average score of 7.1 among those in Scotland's most deprived neighbourhoods, compared with 6.4 in the most affluent).
Second, a further referendum on Scottish independence is not only seen as a lower priority than any of these extra powers, but also than a referendum on EU membership.
This may in part reflect the fact that an EU referendum is being offered at the general election, while a second independence referendum is not, but it is nonetheless interesting to note the detailed differences in opinion on the two referendums.
Support for a further independence referendum in the next five years is strongest among those who are most supportive of extending the powers of Holyrood, achieving an average score of 6.7 among those aged 18-24, but just 4.9 among those aged 55 or over.
At an average score of 6.1, an EU referendum is seen as more of a priority, and is more likely to be seen as a priority among older voters (average score of 6.4 among those aged 55 and over, compared with 6.2 among 18-24 year-olds).
Click here to see the full results
Third, support for greater controls on immigration policy is significant, including preventing immigrants from the EU from claiming welfare benefits for four years (an average score of 6.8) and imposing a limit on the number of people coming to live in the UK (6.3). In both cases, support is highest among older, retired voters and those who live in the most deprived parts of Scotland.
Fourth, the poll suggests that Scots do not see the replacement of the Trident nuclear deterrent as a significant priority, scoring an average of 4 out of 10, the lowest of any of the statements we posed. That is not to say that Scots oppose all investment in defence, as the proposition of increasing the amount spent on the armed forces received an average score of 6.2.
But one of the most interesting features of the poll is that the issue of greatest priority to Scots appears to be personal privacy, with the statement that authorities should not be able to access personal data unless an individual in suspected of criminality, scoring an average 7.6 out of 10.
It is safe to say that this issue has not featured in the campaign to the extent of the others in the poll; perhaps political parties should be saying more about this before 7 May.