Alex Salmond appointed SNP's foreign affairs spokesman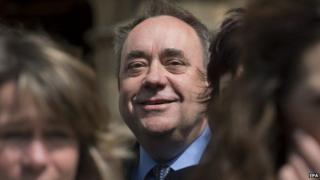 Former SNP leader Alex Salmond has been appointed his party's foreign affairs spokesman in the House of Commons.
Other spokespeople roles were announced by the SNP's Westminster leader Angus Robertson.
The party's Deputy Leader Stewart Hosie will remain economy spokesman and Eilidh Whiteford has been chosen as the work and pensions spokeswoman.
In last week's election the SNP won 56 Scottish seats with Labour, the Tories and Lib Dems picking up just one each.
The new MP for Edinburgh South West, Joanna Cherry, has been appointed spokeswoman for justice and home affairs.
Following his appointment, Mr Salmond tweeted that "promoting Scotland's cause in the international arena" was a "key priority" for the SNP.
He also said: "We'll provide a strong, consistent #SNP voice which is pro-Europe, pro-developing world and against military adventurism."
The SNP is now the third largest party in the House of Commons, ahead of the Liberal Democrats who have eight MPs.
Mr Salmond, who stood down as party leader following the "No" vote in September's independence referendum, won the Gordon constituency.
BBC Scotland's Westminster correspondent David Porter said he believed one of the reasons Mr Salmond had been chosen for the role was because of the importance of Europe in light of the EU referendum.
The new Conservative government has promised that a ballot will take place on Britain's membership of the EU by the end of 2017.