Nicola Sturgeon says SNP will vote against air strikes on Syria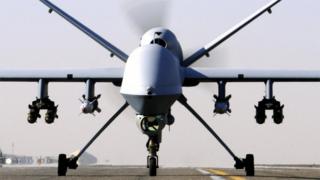 Scotland's First Minister Nicola Sturgeon has confirmed that the SNP will vote against air strikes on Syria.
During a briefing of journalists she outlined her party's stance ahead of a one-day debate and vote on Wednesday.
Labour's only Scottish MP Ian Murray said he would also be voting against airstrikes.
The government has published the motion to be voted on, which says military action is "only one component of a broader strategy" to tackle IS.
It adds that the UK government will not deploy troops in "ground combat operations". The motion would specifically authorise air strikes "exclusively" against IS in Syria.
'Honest difference of opinion'
Ms Sturgeon said the decision for the SNP group of 54 to vote against air strikes had been taken after "a careful assessment of the options".
She said the prime minister had made progress in convincing sceptics, but the SNP retained two principal concerns - the lack of reliable ground troops and the need for post-conflict reconstruction in Syria.
Ms Sturgeon said there had been "an honest difference of opinion" with Mr Cameron.
Labour leader Jeremy Corbyn is against military intervention but offered his party a free vote on the question after opposition from within his shadow cabinet, many of whom are thought to back Mr Cameron's case for bombing in Syria.