Alex Salmond voices stop and search knife crime concern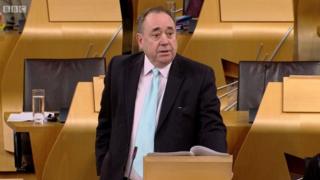 Former first minister Alex Salmond has voiced concerns that changes to stop and search powers could hamper efforts to tackle knife crime.
MSPs have approved new legislation that aims to introduce a statutory code for the use of stop and search.
During the Holyrood debate, Mr Salmond said he wanted to see more analysis of how knife crime could be affected.
Justice Secretary Michael Matheson said he was confident police would have the necessary powers to combat knife crime.
The measures are contained in the Criminal Justice (Scotland) Bill, which was unanimously passed at Holyrood.
The bill also sets out police powers to arrest, hold in custody and question suspects - although a controversial proposal to end the need for corroboration was dropped earlier this year.
Justice Secretary Michael Matheson confirmed in September that Police Scotland was to stop the controversial practice of non-statutory stop and searches of adults and children.
It came after the Scottish government asked John Scott QC to examine the issue. His report found that ending the searches would not prevent officers carrying out their duties effectively.
'Great social evil'
Mr Salmond said he wanted to see "far more analysis of the impact on knife crime of the use of stop and search".
Speaking during the final Holyrood debate of the bill, the Aberdeenshire East MSP pointed out that knife crime, which he called a "great social evil", was mentioned three times in the advisory report on stop and search, while alcohol is mentioned 16 times.
He said "extensive use" of stop and search provided "almost a guarantee" that there would not be "widespread" carrying of knives.
He said: "I would like the minister to address whether he is absolutely satisfied that nothing in this change of powers is going to change the downward trajectory of knife crime in Scotland.
"I'm sure there is no member in this chamber who would want to do anything other than make absolutely sure that the powers available to the police are the maximum that's necessary to make sure that knife crime continues to decline in Scotland."
Mr Salmond said there had been a rising level of knife crime in England and Wales as the number of stop and search operations had decreased.
Mr Matheson replied that he was confident that police would still have the necessary powers to continue to drive down knife crime.
He said: "There's absolutely no doubt that since 2006 there has been a dramatic reduction in the level of knife crime, in particular a significant reduction in the west of Scotland.
"The statistics also show there's been a significant drop-off over the last three years of stop and search. Knife crime has continued to decline during that.
"I'm confident that given the code of conduct and the considerations given to this matter, police will have the necessary powers to allow them to continue that work.
"I should add that tackling knife crime goes much wider than stop and search itself."
Detention without charge
As well as stop and search, the bill also deals with the length of time police can hold a suspect for questioning without charging them.
It will allow a police officer of the rank of inspector or above to authorise a 12-hour extension to the initial 12-hour time limit - effectively allowing the police to hold a suspect in custody for up to 24 hours without charge.
The additional 12-hour extension period would be subject to a formal requirement on the police to review continued custody beyond the first six hours.
Other measures in the bill include:
an extension to the right of access to a solicitor, which will see it apply to any suspects held in police custody, regardless of whether the police intend to question the suspect
additional safeguards for child and other vulnerable suspects, including a provision that child suspects under the age of 16 may not consent to be interviewed by the police without a solicitor being present
An increase in the maximum sentence for possession of a knife or offensive weapon from four to five years
A framework for establishing a Police Negotiating Board for Scotland (PNBS), which is intended to provide a forum for negotiating the pay and conditions of police officers.
The bill had initially included proposals to end the requirement for corroboration - the need for two different and independent sources of evidence - in Scottish criminal cases.
But the plans were dropped from the bill by the Scottish government in April after being heavily criticised by the legal profession, which was concerned it would lead to an increased risk of miscarriages of justice.
Ministers had said they believed more rape, sexual offence and domestic abuse cases would be heard in court if the need for corroboration was removed.
But Mr Matheson said the Scottish government needed more time to consider the findings of a review by Lord Bonomy, who concluded corroboration should still apply to evidence obtained by hearsay and confession.
Possible changes to corroboration laws will now be considered as part of a wider review after the 2016 Holyrood election.